Amber
Perfumes with amber accords are warm, full and often very sensual. Classic amber fragrances are built around an amber accord, often consisting of patchouli, benzoin, cistus labdanum, vanilla and musk. Amber can refer to natural ambergris or synthetic amber such as Ambrox or Ambroxan.
The smell of amber in perfumes
There are different types of amber. The real high-quality ambergris has a beautifully complex fragrance profile. With ambergris you hardly smell anything at the top, but all the more in the base: warm, salty, sensual, sweet, animalic, musky.
However, due to the extremely high prices of ambergris and its 'animalic' origin, perfumers often use synthetic ambers such as Ambroxan, Ambrox, Ambreine and Grisalva.
In addition, perfumers create great amber accords by a rich blend of vanilla, benzoin, cistus labdanum and musk. These amber accords emphasize the oh so desirable warm and alluring scent.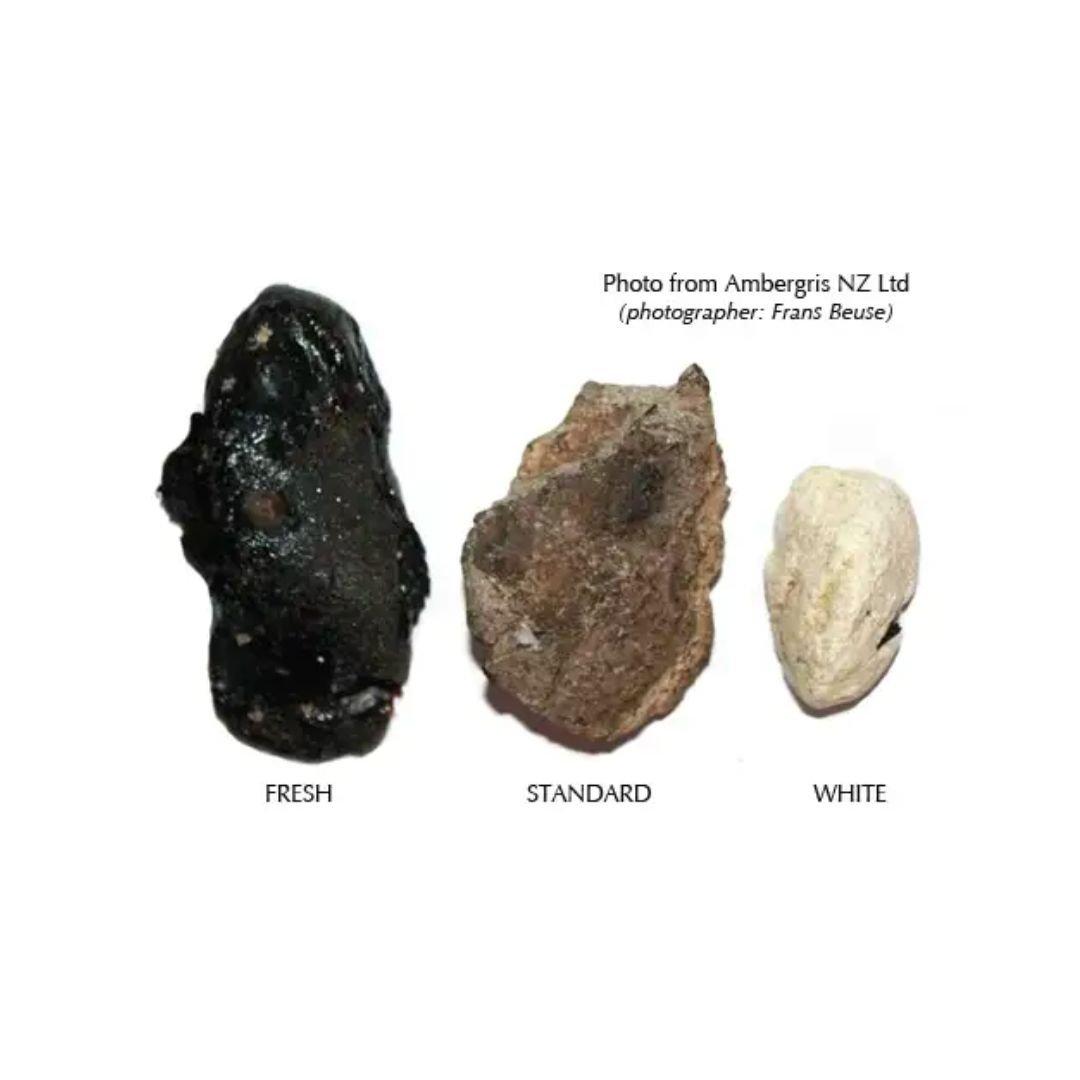 What is ambergris?
Ambergris (from the French ambre gris, meaning 'gray amber') originates from the intestines of a small number of male sperm whales and is a reaction to the sharp squid beaks that end up in the intestines through the stomach. A cholesterol-like substance is deposited around it and continues to grow.
Through excretion (via the whale's anus) the chunks end up at sea, and they petrify under the influence of salt and the sun. Ambergris washes up on the beach as gray debris, sometimes weighing several tens of kilograms.
Because it is a rare find with high-quality properties, a high price is paid for these fragments. Therefore, ambergris is also called 'floating gold' due to its high value. The fragments are then pulverized to make an extract or tincture for use in perfumes.
In 2013, very exceptionally, a dead sperm whale washed ashore on Texel, with 83 kg (!) ambergris (an even bigger exception) in its intestines. Annindriya's fragrance experts had the privilege of working with Ecomare to determine the quality and value of the ambergris and to guide the sale. A once in a lifetime experience! Would you like to learn more about ambergris? Read our blog about Ambergris from Texel here.
Synthetic amber
It is rare for a perfumer to use natural ambergris. Due to the high prices of ambergris and the alarming decline in the number of sperm whales, some very useful synthetic alternatives to ambergris have been developed.
The molecule Ambroxide is important in the special smell of ambergris. It is produced by oxidation of ambrein, which is present in large amounts in ambergris.
Now scientists have discovered that ambroxide can also be made from a substance in the essential oil of sage (from sclareol). Ambroxide and similar perfume ingredients are available to a perfumer under the trade names Ambroxan, Ambrox, Cetalox, Ambermor and Ambrofix, among others.