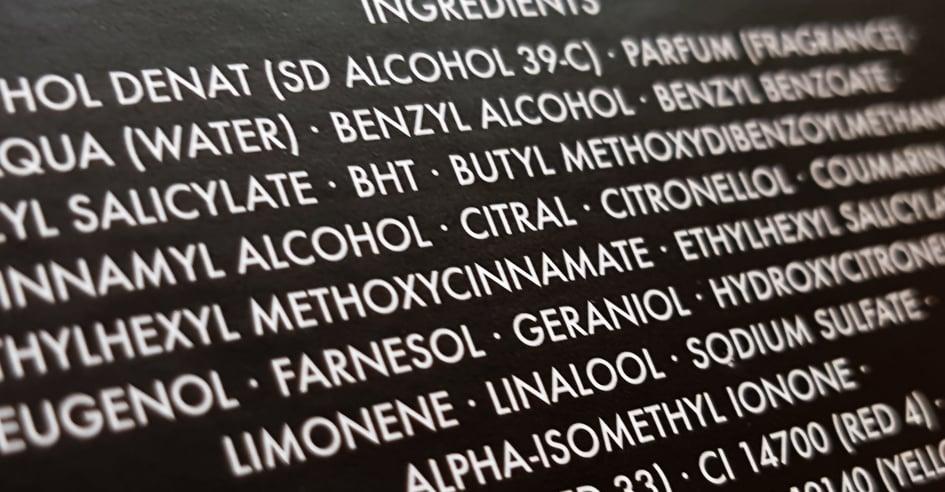 What you need to know about perfume allergy
Perfume should be enjoyed, carefree! But what if your skin doesn't agree with perfume? Here you can read all about facts and fiction with regard to allergies in relation to perfume and how you can still use perfume even if you turn out to be allergic.
Irritation or allergy?
A rash, redness, itchiness, a burning feeling: your skin is reacting to something. This doesn't necessarily have to indicate an allergy, it could just be an irritation to the skin. What is the difference between an irritation and an allergy?
If it's an allergy, your skin will react immediately upon contact with the product causing the allergy, whereas an irritation might flare-up a couple of times upon contact but will not necessarily do so each and every time and might even simply disappear.
If you want to be absolutely sure it's not an allergy but an irritation, the best thing is to see a dermatologist.
An allergy is an oversensitive reaction to certain substances which luckily doesn't happen often. In our daily lives, you are sure to be in contact with various potential allergens, either from nature or from using certain (synthetic) products. For example, 14% of all Europeans is allergic to nickel (used in jewellery for instance). Less than 2% of the European population might have an allergic reaction to perfume ingredients.
Potential allergens in perfumery
A perfume consists of several ingredients ranging from a couple to up to 100 in a formula. The perfumer can choose from 3000 different ingredients. As of 1997, cosmetic companies are obliged to list the ingredients on their packaging. If the product contains perfume, this should be in the list of ingredients (perfume). Since 2003 this has been narrowed down to being mandatory for all products containing fragrance (ie perfumes). All perfumes must list which potential allgergens (if any) the contain. This list consists of 26 known/tested potential allergens. Of these 26 potential allergens, we know that a very small group of people might react to some of them. These ingredients (potential allergens) are perfectly safe to use with causing a reaction for most of us. Most of these ingredients are actually naturals and only a small number are synthetic essences.
The 26 aromatic essences you will find on the list are:
alpha-isomethyl ionone,
amyl cinnamal,
amylcinnamyl alcohol,
anise alcohol,
benzyl alcohol,
benzyl benzoate,
benzyl cinnamate,
butylphenyl methylpropional,
cinnamal,
citral,
citronellol,
cinnamyl alcohol,
coumarin,
eugenol,
geraniol,
farnesol,
hexyl cinnamal,
hydroxycitronellal,
hydroxyisohexyl 3-cyclohexene carboxaldehyde,
isoeugenol,
limonene,
linalool,
methyl 2-octynoate,
oakmoss (Evernia Prunastri),
treemoss (Evernia Furfuracea).
Tips when you expect to be allergic to perfume
How to test if you have an allergy?
If you are afraid to get an allergic reaction, the best thing to do is to try a very small amount on the inside of your elbow. If there is no sign of a reaction within 24 hours, then the chances are you are not allergic. If however, your skin does react, then stop using the product immediately and if necessary, contact your GP or a dermatologist. The dermatologist uses a 'patch test' to find out to which substances you are allergic. By applying small cups with the the potential allergen on your back, and leaving them for 48 hours, you can determine step by step which substance is causing the reaction.
Tips when you have an allergy
If you are allergic to perfume, you can of course use fragrance free cosmetics and try to avoid perfume all together. If on the other hand, you still want to keep using perfume, we advise you to try the following.
Read the label on your cosmetics or perfume bottle. After the word 'Ingredients', you will find various ingredients listed in diminishing order. If you know for which ingredient you are allergic, you then know which perfume you can or cannot wear. This way you can enjoy your scent without worries.
Or, an alternative would be wearing perfume by spraying it on your clothes, handkerchief, or on the hem of your dress, for instance, without spraying it on your skin.