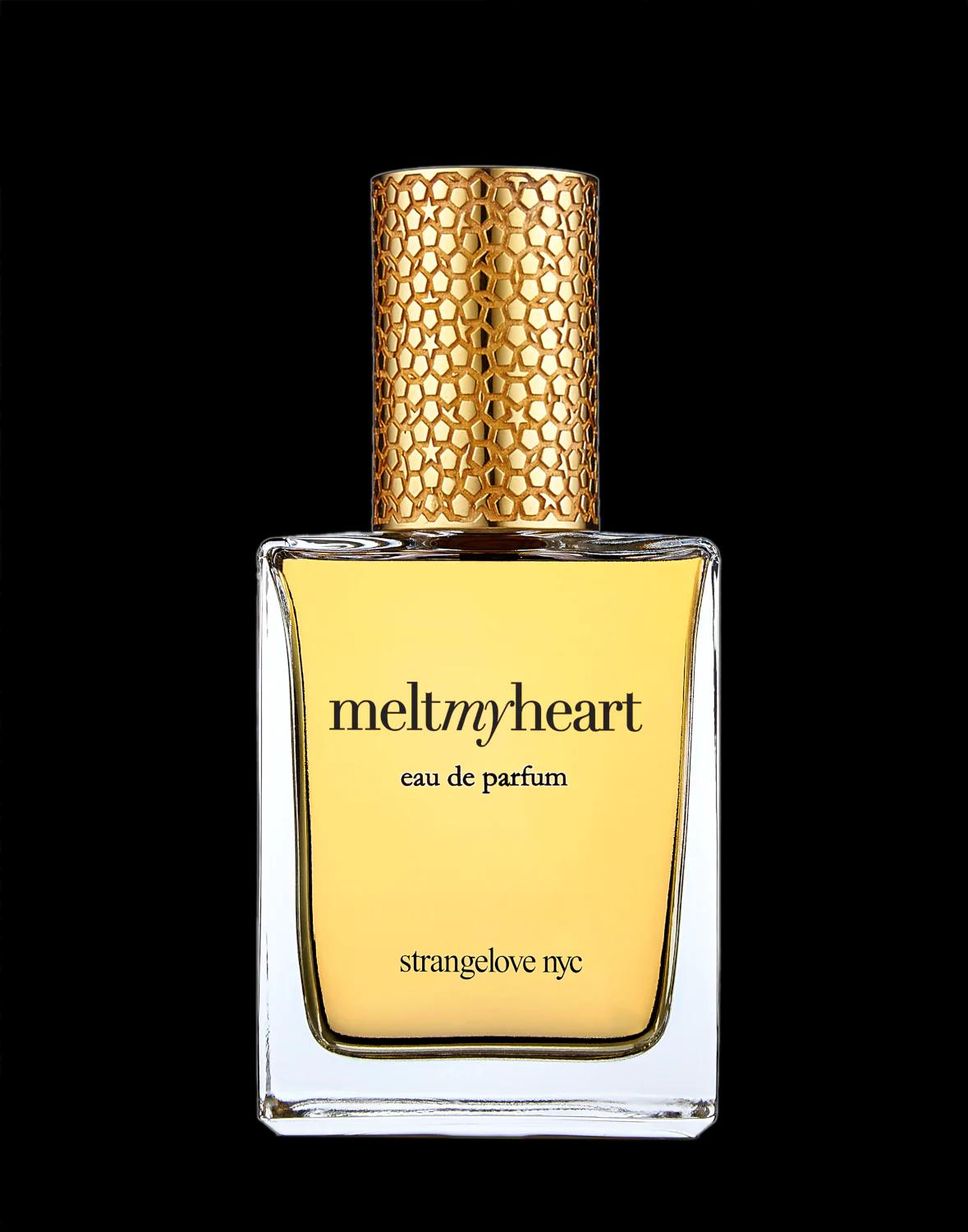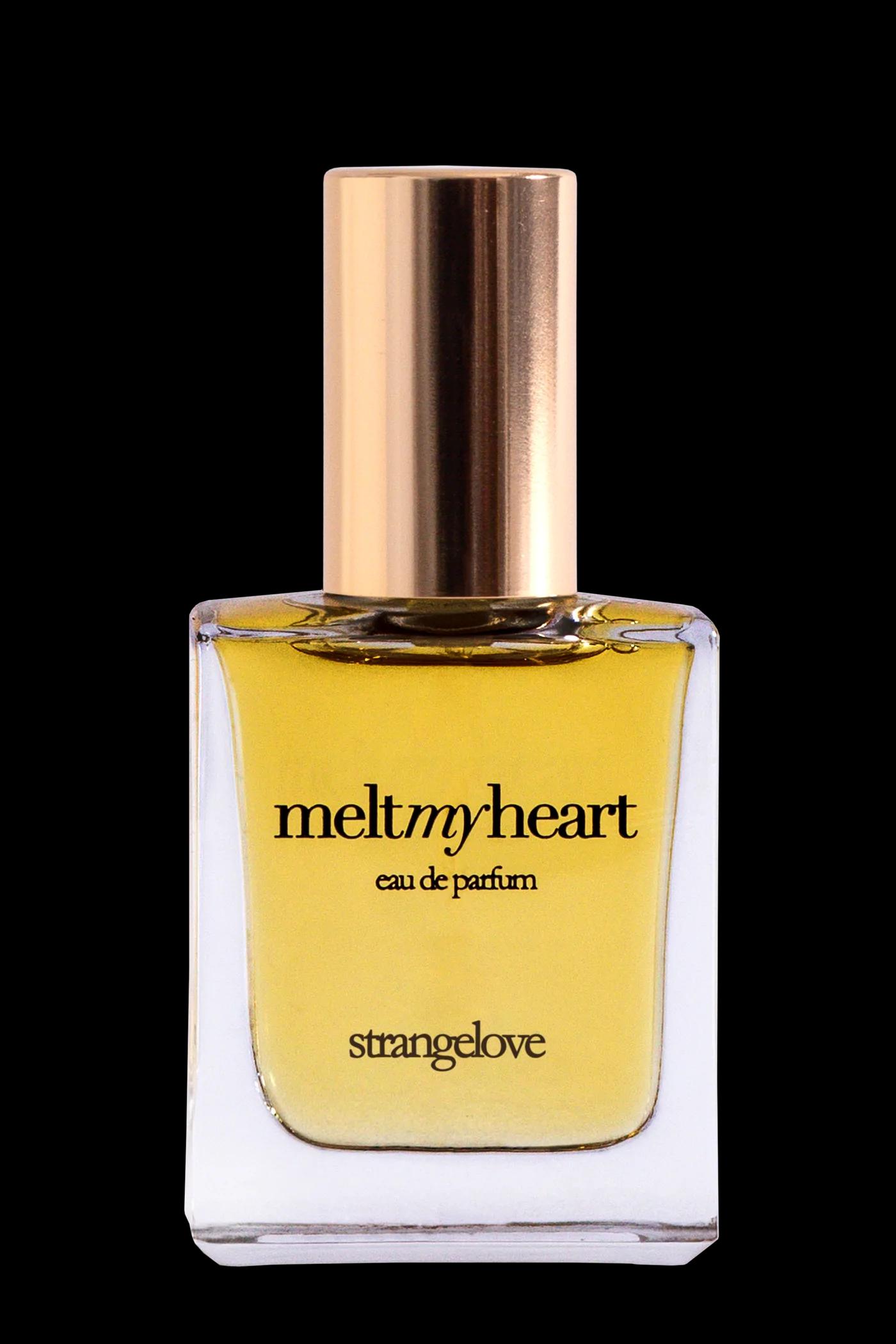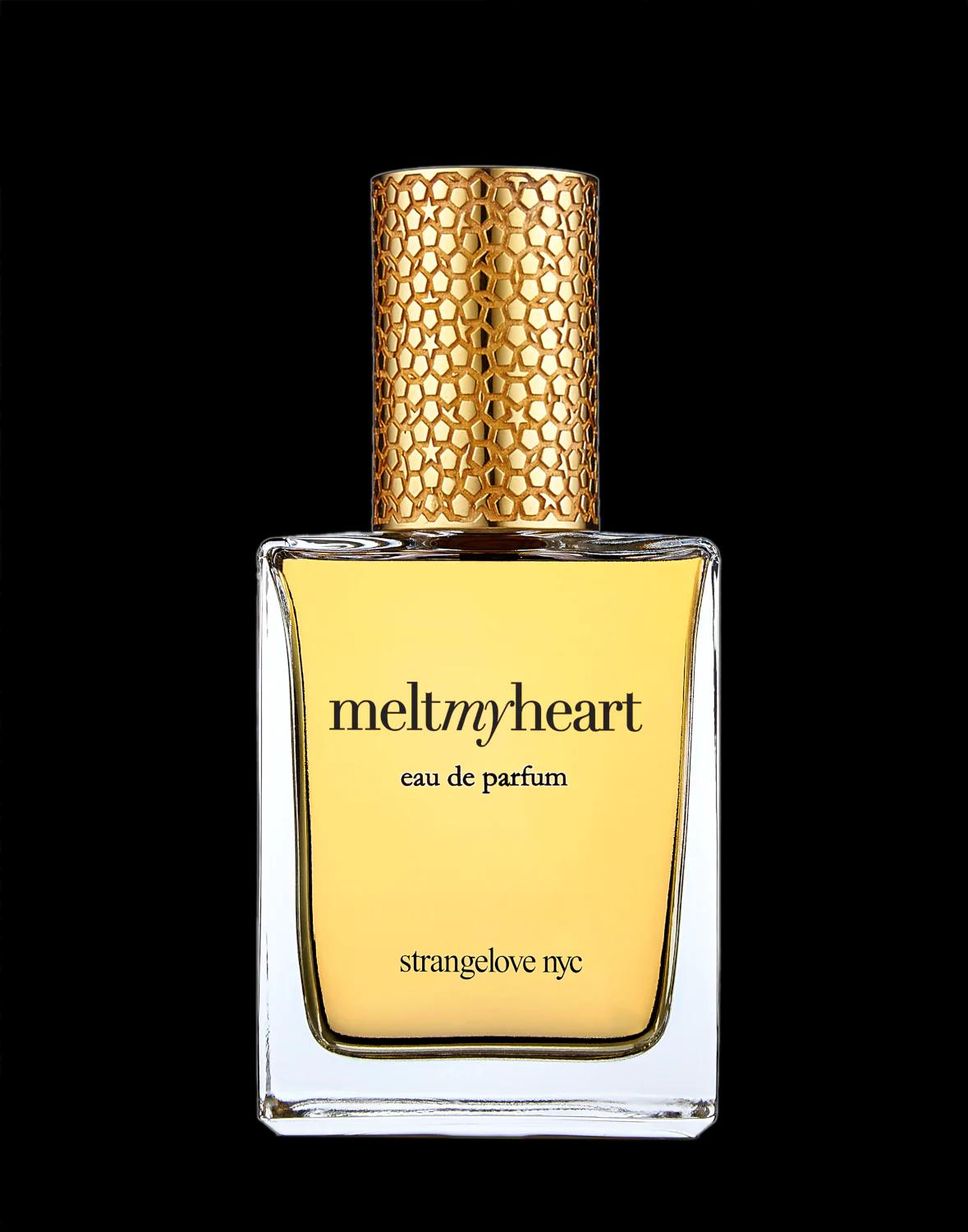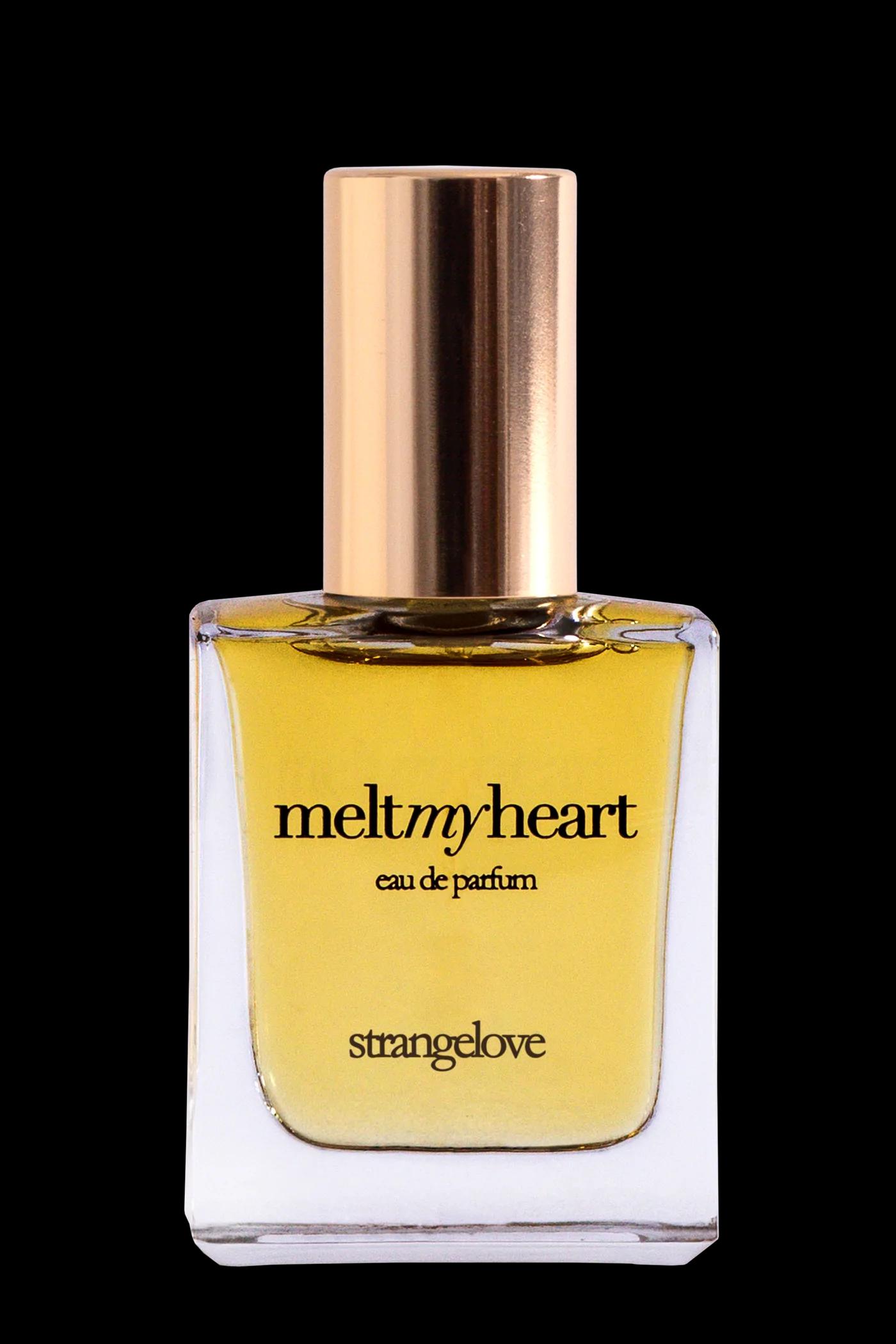 Daily worldwide shipping

Free shipping rates available

Free samples & gift wrapping
meltmyheart by Strangelove NYC is sensual, elegant, and yummy! An interesting combination of sumptuous orris butter, natural oudh, and luscious dark chocolate. This is the second perfume made by Master Perfumer Christopher Laudamiel for this luxurious brand and is very well received and adored.
Strangelove: "This sumptuous oriental contains pure orris butter, a sought-after delicacy in perfumery for which there is no substitute. As the warmth of true love, orris butter is irreplaceable. Our sensual blend is deepened by the sultriness of beloved oud and sandalwood, soothing ylang ylang combines with a hint of refreshing absinthe and French sage to boost spirits. With their irresistible influence, purified ginger, stimulating mandarin, and luscious dark chocolate complete this enthralling creation. Tender and poetic, meltmyheart embodies an eternal bond between kindred spirits."
Sandalwood, Mandarin, Ginger, Sage, Chocolate, Orris, Magnolia, Oudh, Ylang ylang
Strangelove NYC is a high-quality, exclusive and luxurious brand with intriguing and unusual scents in eau de parfum and in oil. The oil can also be worn in a desirable 24 carat gold-plated necklace. Every perfume is packed with natural, precious ingredients. For example, each fragrance contains 2 natural types of Oudh; deadofnight even contains 3 types. The perfumes are made by hand in New York, true craftsmanship. The design of the bottles, caps and chains showcases the impeccable quality of the brand. 24 carat gold plated caps, high quality glass, exclusive design by art director Helena Christensen.
Fragrance family
Gourmand
Gourmand fragrances are sweet, tempting and mouthwatering. Just as much we enjoy eating sweets, perfumers are inspired by the addictive character of the almost edible notes. Gourmand is the collective name for sweet delicacies. Think of chocolate, hazelnut, vanilla, coffee, caramelized sugar, bubblegum or licorice, yummmmm.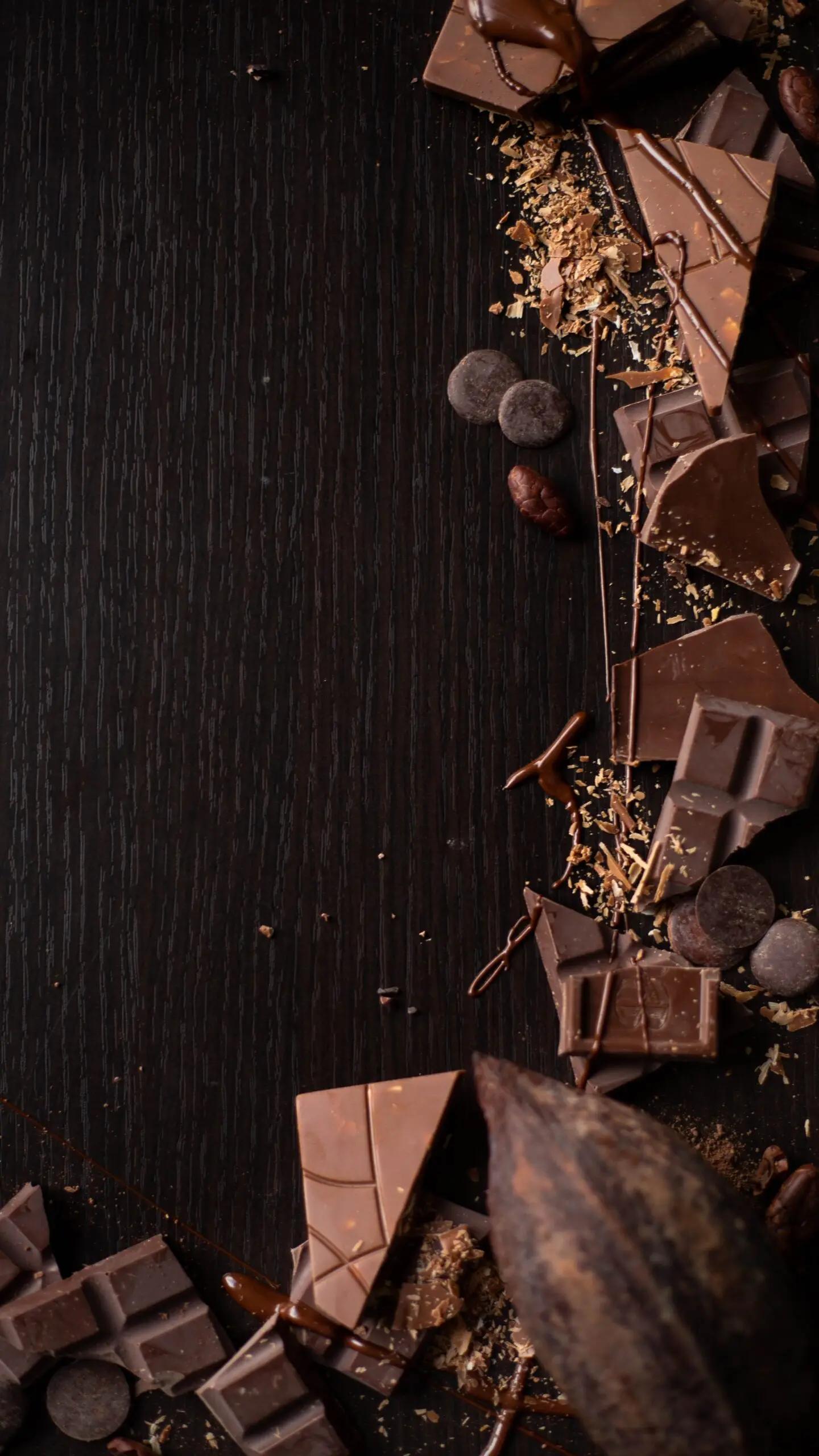 meltmyheart - eau de parfum
Wonderful Masterpiece
Bang! Sensual/Sexual parfum. Just sprinkled a good cocoa bomb and immediately a gorgeous real Iris butter. After 5 minutes the base notes immediately arrive to support the initial fragrance and it continues to be wonderful on my skin, the perfume settles and remains the one with a duration of at least 12-18 hours. One of the best perfumes I've ever smelled, one word: Unique!
Om op te eten.
Dit is echt een parfum die lang dicht bij je op de huid blijft hangen. Vooral de laatste fase van de geur kan dagenlang in je kleding blijven zitten. Zacht en warm, heerlijk voor de herfst en winter.
Melt my Heart indeed
wat een ongelofelijke lekkere gourmand parfum is dit zeg,een mooie volle Aoud (geen barnyard) met een romige chocola en een licht minty dry down,erg sterk geconcentreerde parfum waar je aan 1 of mischien 2 sprays meer dan genoeg aan hebt dat mag ook wel met zo een prijskaartje maar het is het zeer zeker waard.....heb zelf de 15ml flesje maar als die ooit op is haal ik zonder twijfel de 50ml
Ramazan Sarikaya - 2020-07-23
Prachtige boter iris
Ken je de cacao nog van vroeger. Die rauwe donkere ongezoete cacoa waar je de chocolademelk mee maakte. Zo opent deze prachtige geur. De oud komt even op met zijn schimmelige geur maar deze veranderd in een hele zachte zoetige oud. Nooit geweten dat echte oud zo zou geuren. En dan die iris. Wat een prachtige dikke iris boter. Alsof je er helemaal mee ingesmeerd bent.Als ik in de ochtend wakker word dan ben ik helemaal warrig en denk wat geurt er hier toch lekker. Phine gaf mij een sample van deze geur zodat ik haar kon bewonderen. Gelukkig bleef het niet bij bewonderen en staat ze toch in mijn kast.
Meltmyheart. is een wonderschoon parfum. De geur blijft weliswaar redelijk dichtbij maar is de volgende dag ook nog waarneembaar. Prachtig verzorgd flesje en doos!
Joke de Haas - 2020-06-01
Melted my heart
Melt my Heart is de geur van verliefd worden. En dat gebeurde! Vanaf het moment dat de eerste noten van deze tovergeur mijn neus binnen kwamen was ik van mijn sokken geblazen. Zoooo mooi! En wat een kwaliteit. Het werd alleen maar mooier toen ik de geur beter leerde kennen. En nu kan ik niet meer zonder. Als een aura hangt de geur uren en uren om me heen. Steeds weer anders en oh zo knuffelig. Mijn favoriet met stip op 1!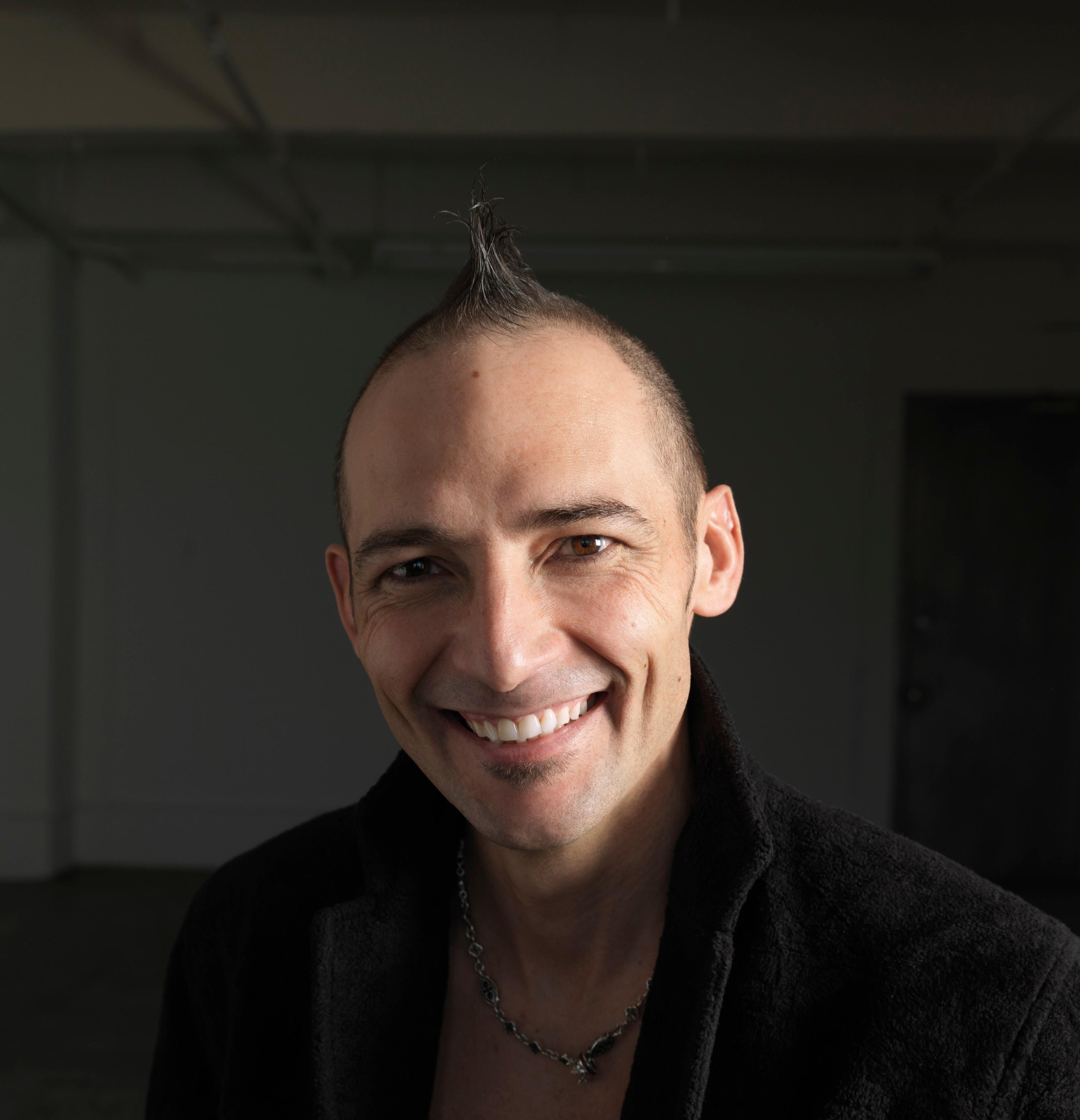 Christophe Laudamiel
Christophe Laudamiel is an award winning master perfumer, known for his innovative and high-end perfumes. He is the nose behind Fierce (Abercrombie & Fitch), Polo Blue (Ralph Lauren) and Tom Ford, among many more. Christophe is not only a great perfumer, but also an educator and lecturer, eager about explaining the world of perfumes to the general public. You will find many of his creations at Perfume Lounge, such as Strangelove NYC and Humiecki & Graef, and his very own brand The Zoo. Interested to read more about Christophe Laudamiel? Click here to visit his profile!