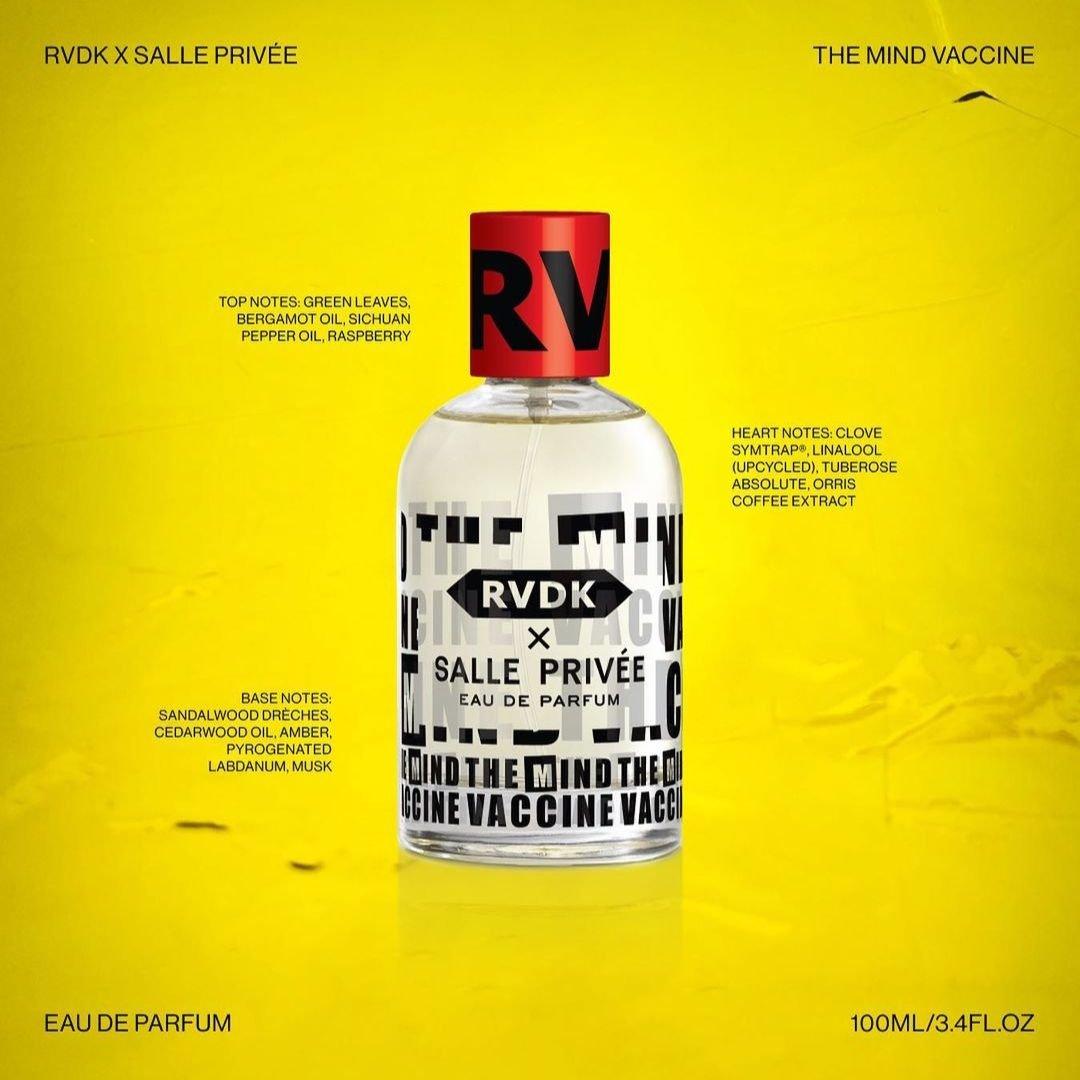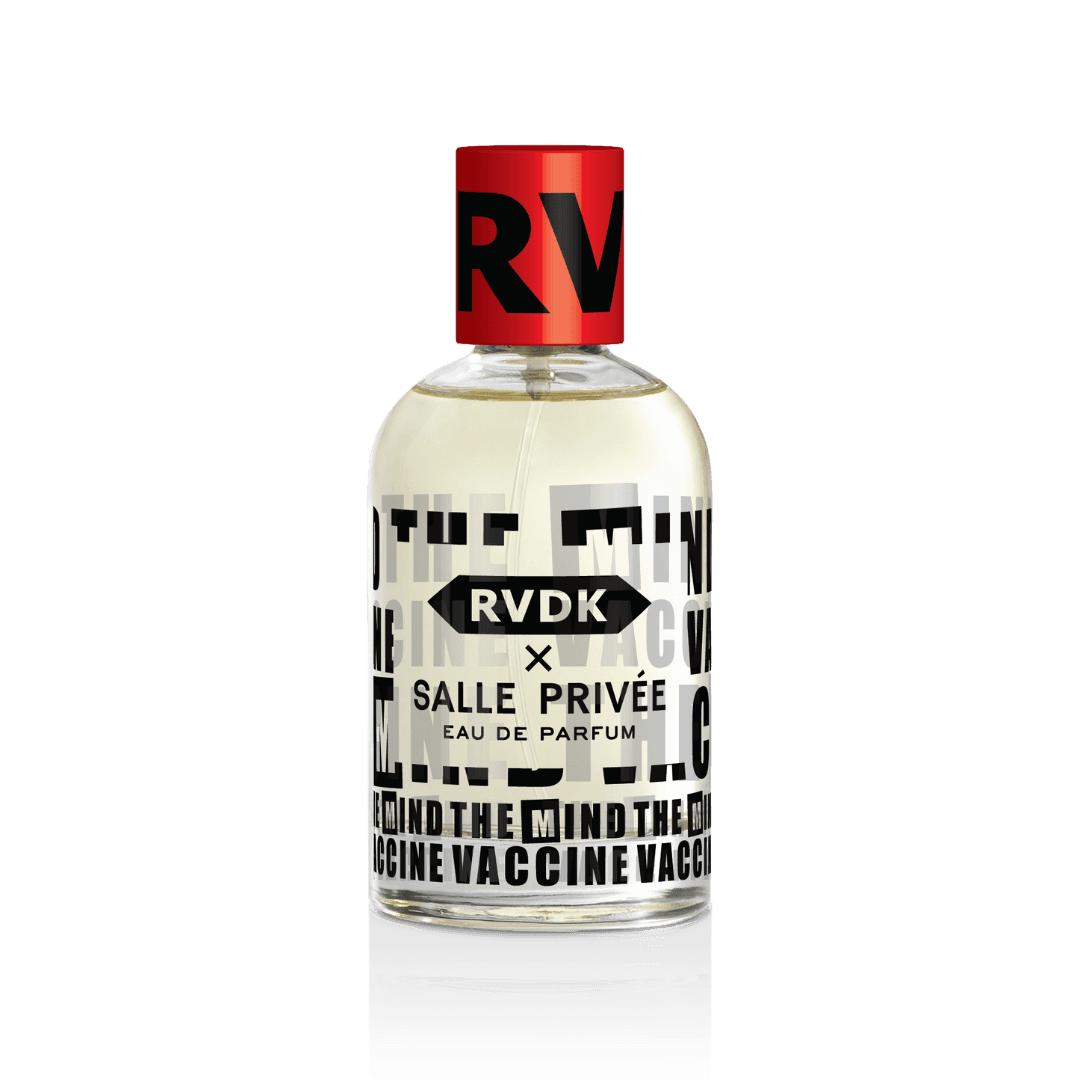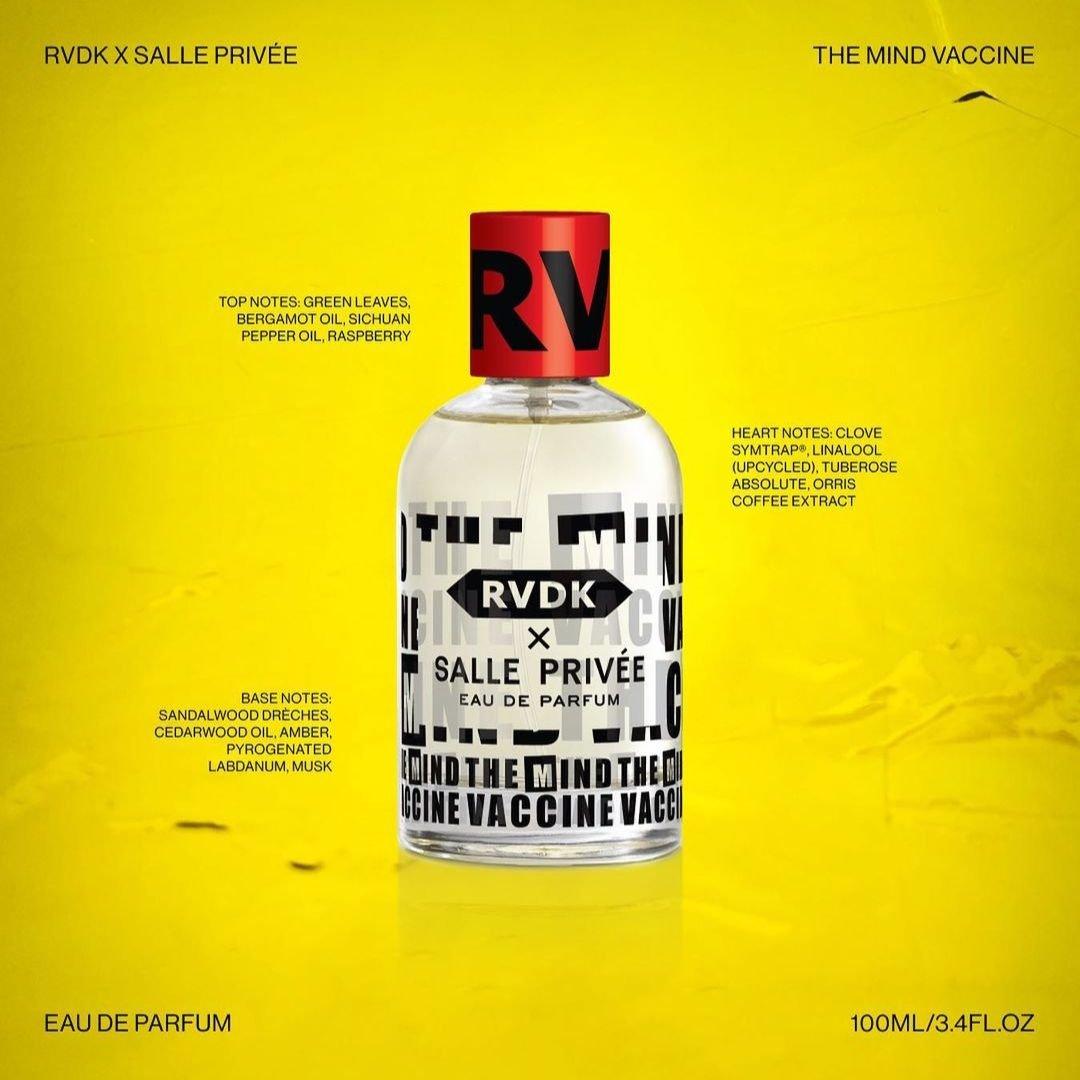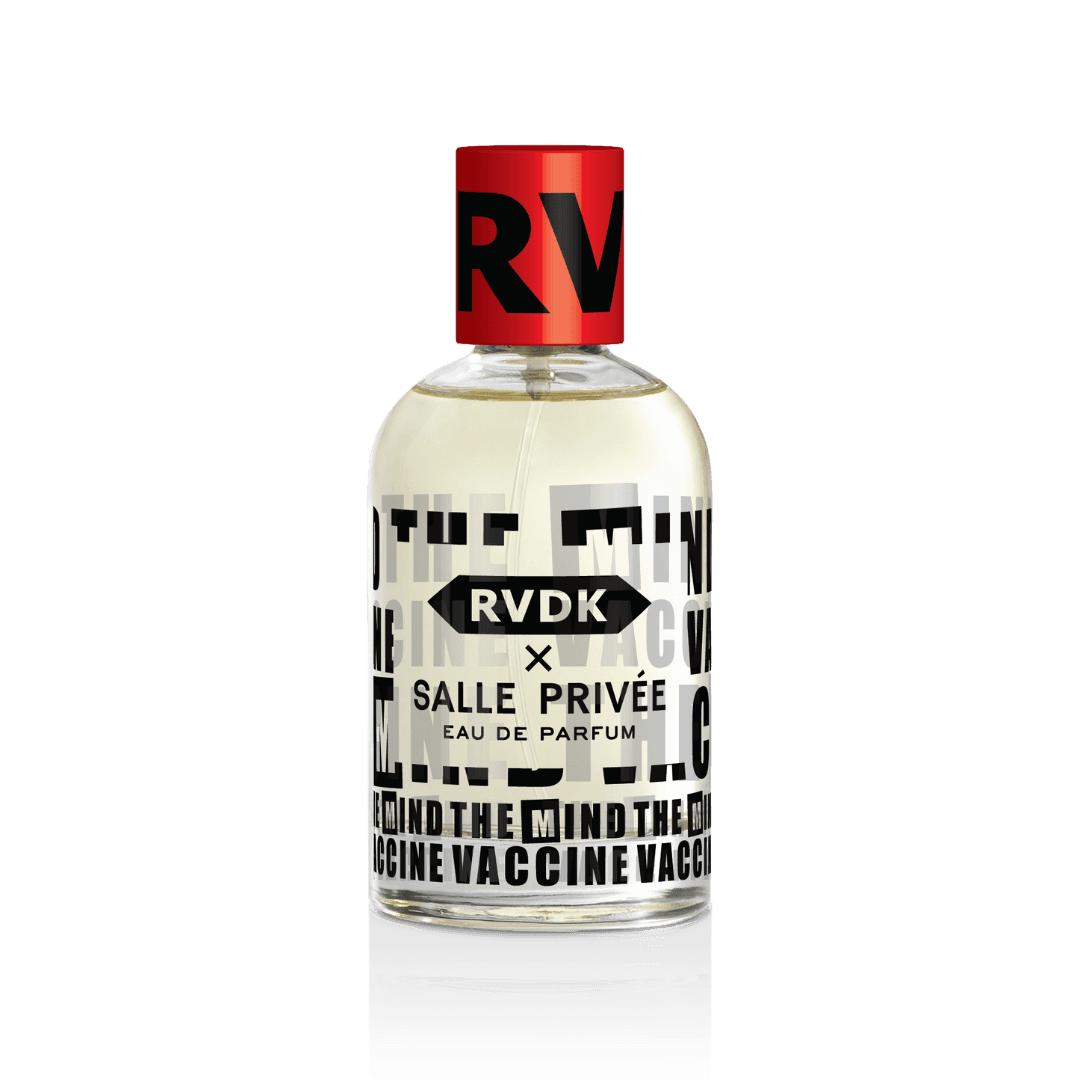 Salle Privee
The Mind Vaccine (RVDK x Salle Privee) - eau de parfum
 € 286
Daily worldwide shipping

Free shipping rates available

Free samples & gift wrapping
The Mind Vaccine: a new fragrance created through an exclusive collaboration between RVDK Ronald van der Kemp, the world's first ethical couture house, and Salle Privée.
This extraordinary scent, crafted by perfumer Isaac Sinclair, boldly combines refinement and sustainability,. The Mind Vaccine harmoniously blends exquisite upcycled ingredients such as clove (SymTrap) and linalool, with sandalwood, tuberose and Sichuan pepper oil.
The bottle features the classic Salle Privée shape with a composite cap made from recycled materials. The remarkable packaging made from recycled paper, with an inlay of an innovative recycled wool, is designed to be re-used as a perfumed pouch for your closet to keep your wardrobe smelling wonderful. RVDK's rebellious and artful signature is expressed by the playful graphics and vibrant red colour.
The name, The Mind Vaccine, is an invitation to open your mind to positivity. It serves as a wake-up call to the world, reminding us of our collective responsibility to utilize our power to create a positive impact.
The Mind Vaccine is a luxurious unisex fragrance that not only carries a positive message but also celebrates responsible hedonism and eccentricity.
Are you ready for your next shot?
Bergamot, Sichuan pepper, Raspberry, Clove, Tuberose, Orris, Coffee, Sandalwood, Cedarwood, Amber, Cistus labdanum, Musk
Salle Privée is committed to crafting and providing a ritzy lifestyle experience through its decors and its collection of sleek, but minimalist, elegance essentials. This eye for detail can be found in the wardrobe of their fragrances. Each and one of them is made to accentuate your personal style. The perfumes are inspired by the disruptive seventies, where design, art, and architecture took on an innovative twist. Clean design, minimal, transparant, surprising. Perfume designer Tanja Deurloo has created all fragrances in close cooperation with Patrick Munsters, the founder of Salle Privée.
Also discover the extrait of The Mind Vaccine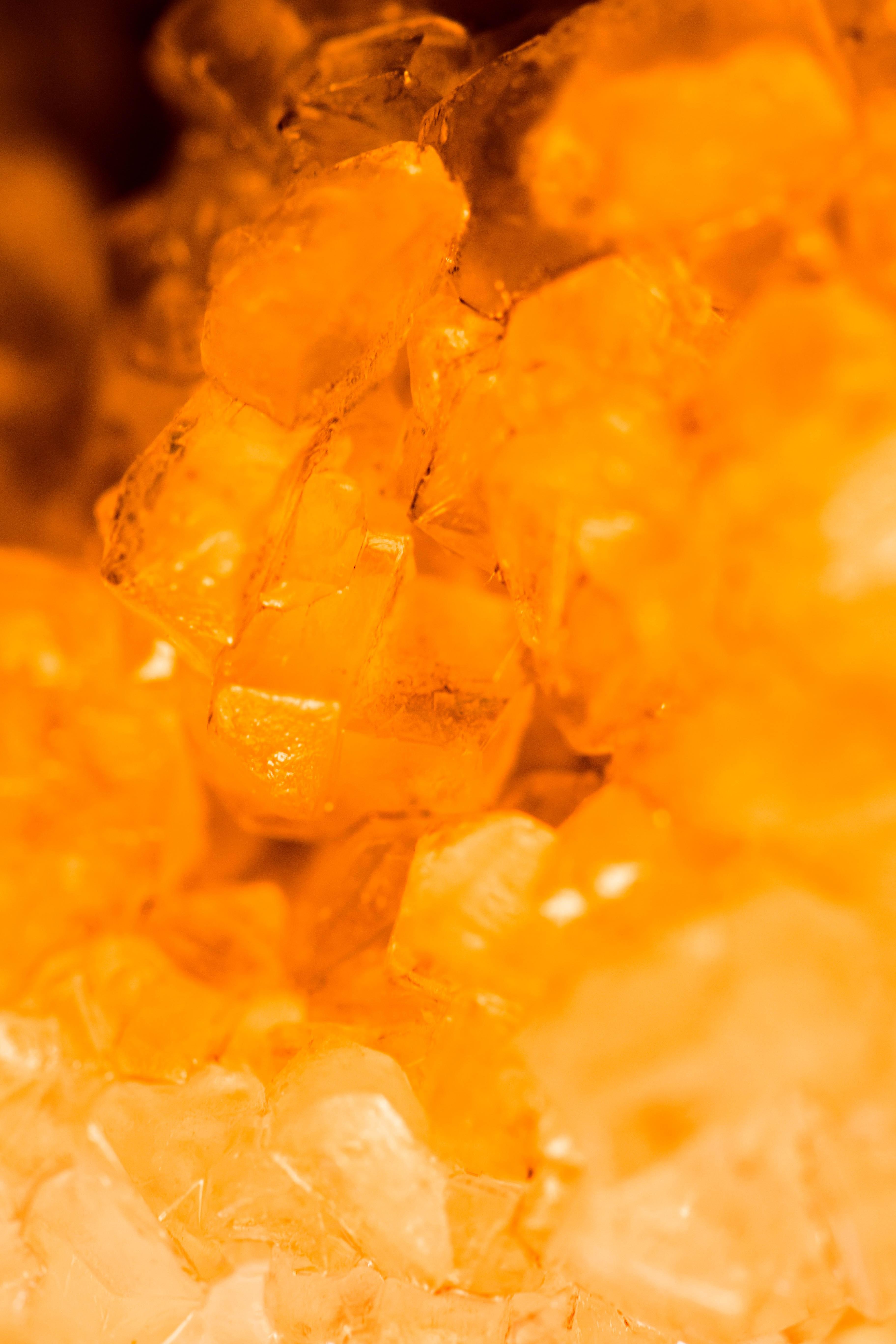 Fragrance family
Amber
The amber fragrance family contains warm, spicy and often sensual perfume notes. Classic amber fragrances are built around an amber accord, often consisting of patchouli, benzoin, labdanum, vanilla and musk. Also, amber can refer to natural ambergris or synthetic amber, such as Ambrox or Ambroxan.