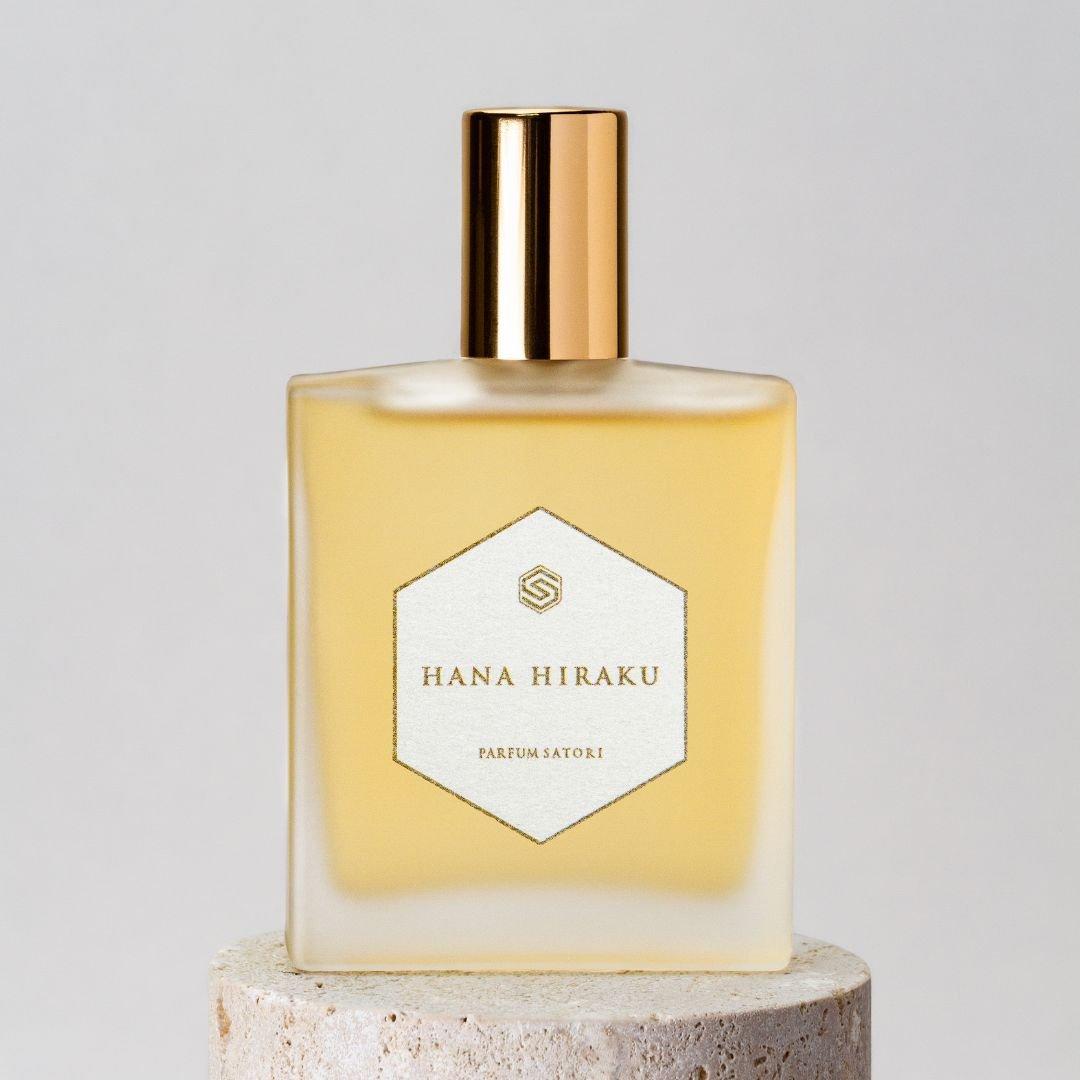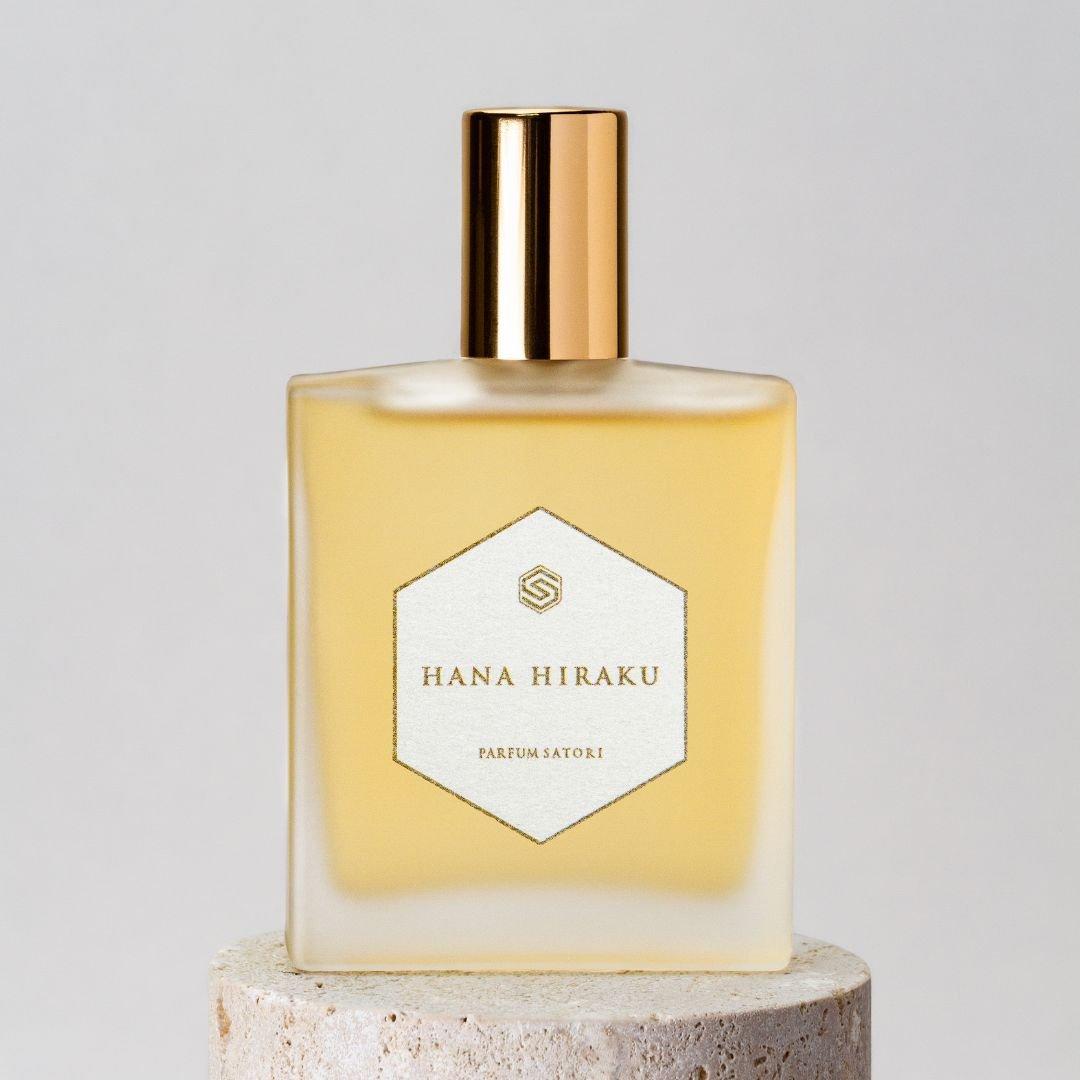 Daily worldwide shipping

Free shipping rates available

Free samples & gift wrapping
Hana Hiraku by Satori is a surprisingly fruity, elegant and original fragrance. Satori Osawa's latest fragrance, Hana Hiraku, is inspired on magnolia. A tree which flowers in spring and has a fresh, light floral and green scent, which Satori caught beautifully in this perfume.
The combination of white flowers (magnolia, jasmine and tuberose) with miso, a fermented bean paste from Japan gives the perfume a light savory aroma, a bold move! To quote Satori Osawa: "I want to be the first one to use such kind of flavour in a fragrance! I combine both of them to make the sweet perfume (Hana Hiraku) with more balance by giving a salty note."
The fruitiness in Hana Hiraku is balanced with galbanum, which gives it a fresh, green twist. A certain elegance comes from the white flowers and the surprising savory note from the miso.
Ylang ylang, Bergamot, Sandalwood, Chamomile, Guaiac wood, Galbanum, Opoponax, Melon, Beeswax, Orris, Jasmine, Magnolia, Rose, Tuberose
Delicate and refined authentic Japanese perfumes. Satori Osawa is an independent perfumer from Japan, born in Tokio where she studied Fragrance Design and Perfumery taught by master perfumer Kenji Maruyama. In 2000 she started her own exclusive brand: Parfum Satori. We are proud and grateful to be the first in Europe to show and offer the beautiful creations by Satori Osawa. Satori creates original perfumes from an authentic oriental perspective; the delicate eau-de-parfums are praised all-over and are recognizable in their authentic Japanese style and characteristics.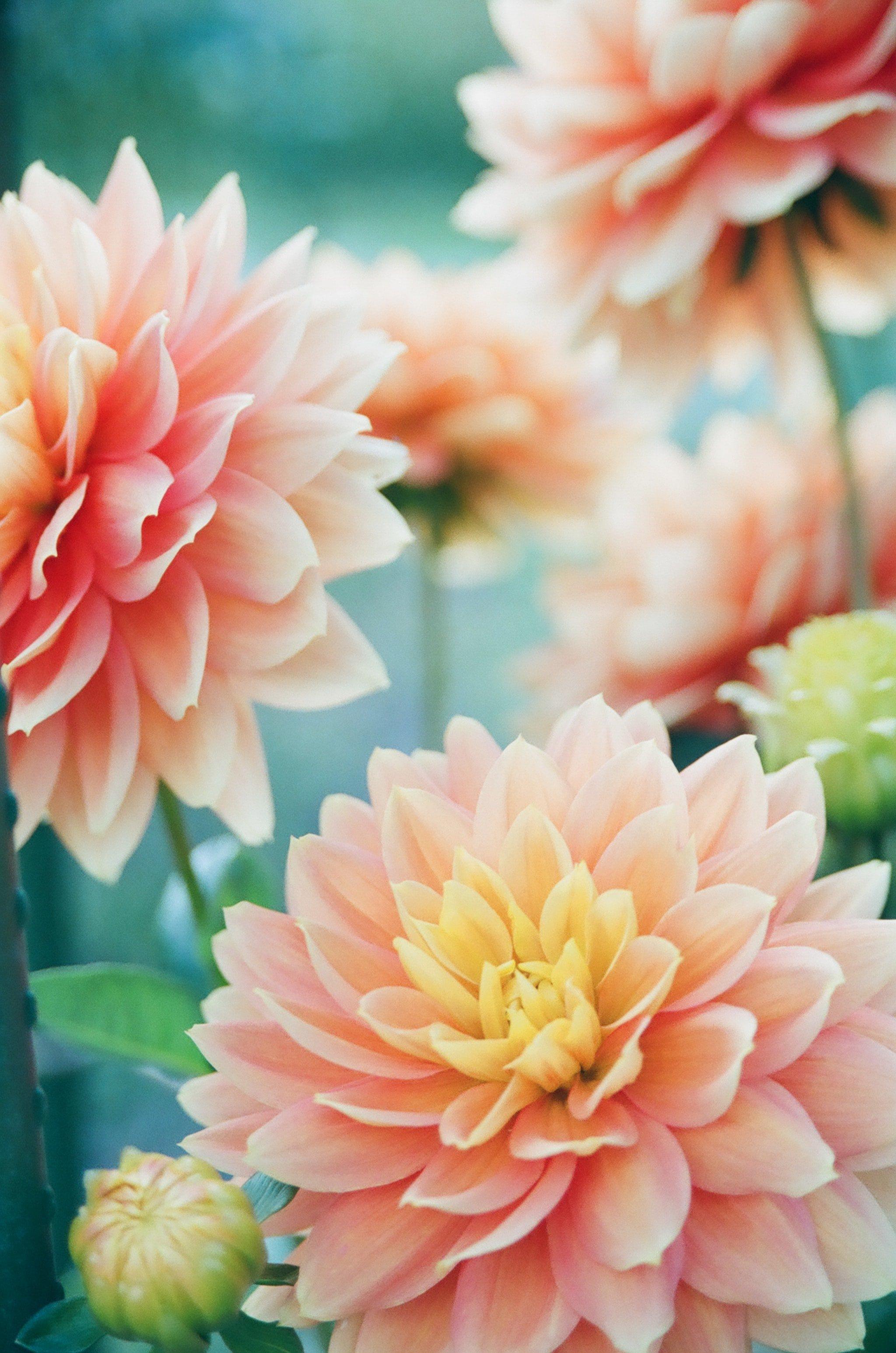 Fragrance family
Floral
Floral fragrances celebrate the delicious scent of flowers, being the richest source of inspiration for perfumers. The use of flowers in perfumes have been used since antiquity; from soft delicate flowers like freesia, muguet and blossoms, to narcotic flowers like jasmine, tuberose and gardenia... Enjoy, and smell the roses!
Hana Hiraku - eau de parfum
Wonderful perfume
That creamy melon, magnolia and miso combo is just insanely addictive, and there's nothing like it out there!
Wonderful scent
That's really a special scent ! Nocomparison with anything else it starts with a very realistic melon note that linger on the base of the composition for the whole time. But it's not only a mere fruity fragrance because after a while a delicious and delicate floral note appears and make the scent creamier and less fuzzy. Very good for spring/summer is not invasive or boozy. A skin scent in a very japanese style
Maria Giulia - 2020-04-22
Beautiful melon in white flowers
This scent is simply beautiful and well balanced. I love Parfum Satori brand! Wasanbon and Satori (signature) are amazing too.
Agnieszka P. - 2019-09-05
My meditation perfume
Hana Hiraku became perfume of my meditation time. I spray it on when I need to feel calm. Hana Hiraku is very positive, sunny floral fruity creation. I love to put it on when I go to sleep, which I rarely do with perfumes.
Interressant en diepzinnig.
Bij herhaling mijn nr. 1.
A happy and elegant touch of warm spring!
A very elegant perfume with good longevity and moderate sillage. I tend to wear it in the summer, autumn and springtime. This to me smells like a warm, sightly fruity and creamy bouquet of white flowers, without being overly sweet. As it settles it becomes greener, maybe because of the galbanum. As much as I love white flowers, I often find them headache induing. Fortunately this one works for me! I am a big fan of the Satori perfumes and this one is one of my favourites!
Satori Osawa
Satori Osawa is an independent perfumer from Japan. She was born in Tokyo where she studied Fragrance Design and Perfumery under the guidance of master perfumer Kenji Maruyama. In 2000 she started her own perfume brand: Parfum Satori. In Europe, Satori is exclusively available at Perfume Lounge. Satori Osawa's perfumes are widely acclaimed for their authentic Japanese style and characteristics. The focus lies on the attention to detail, subtlety, understated luxury and high-quality materials. Watch
our vlog
about four of Satori Osawa's fragrances.