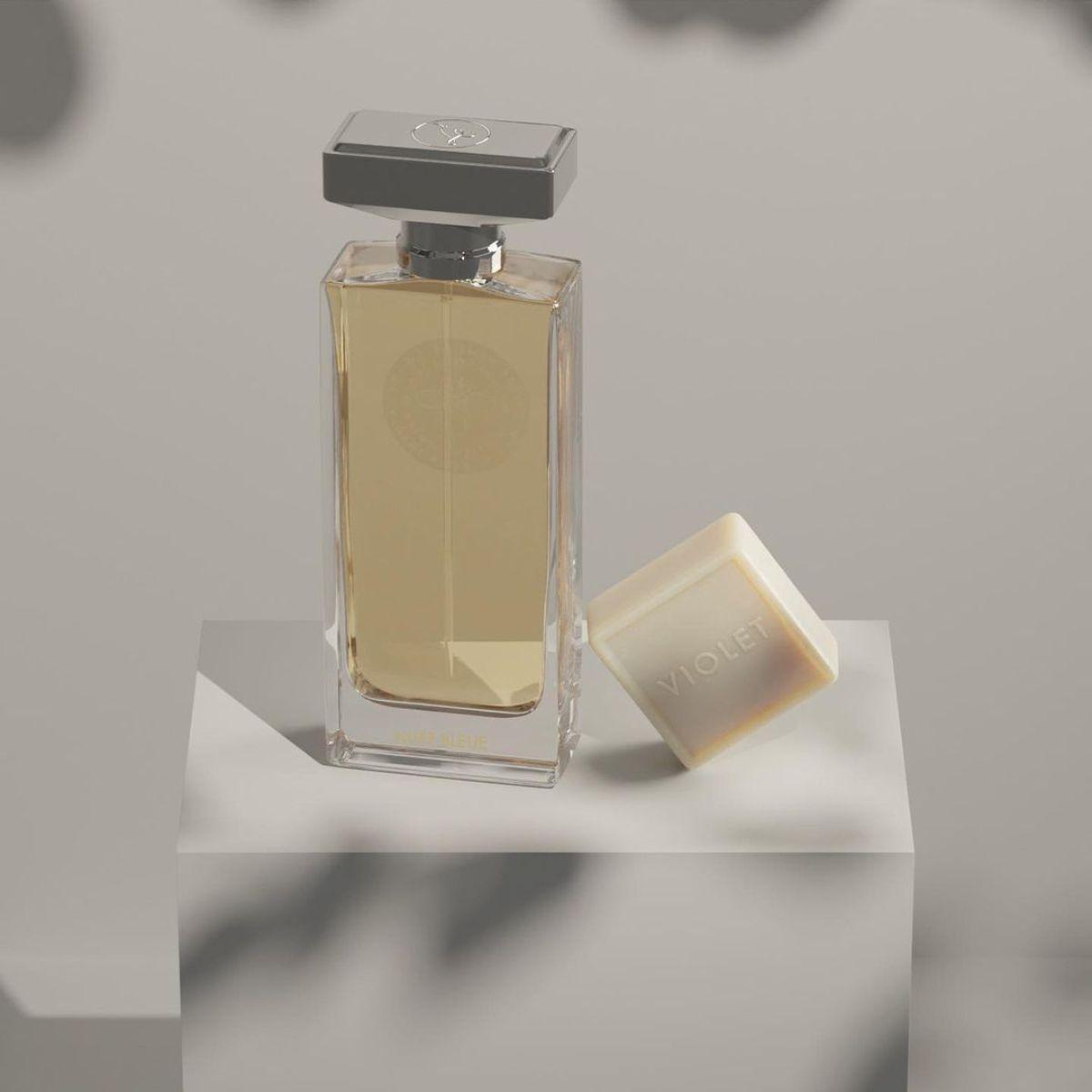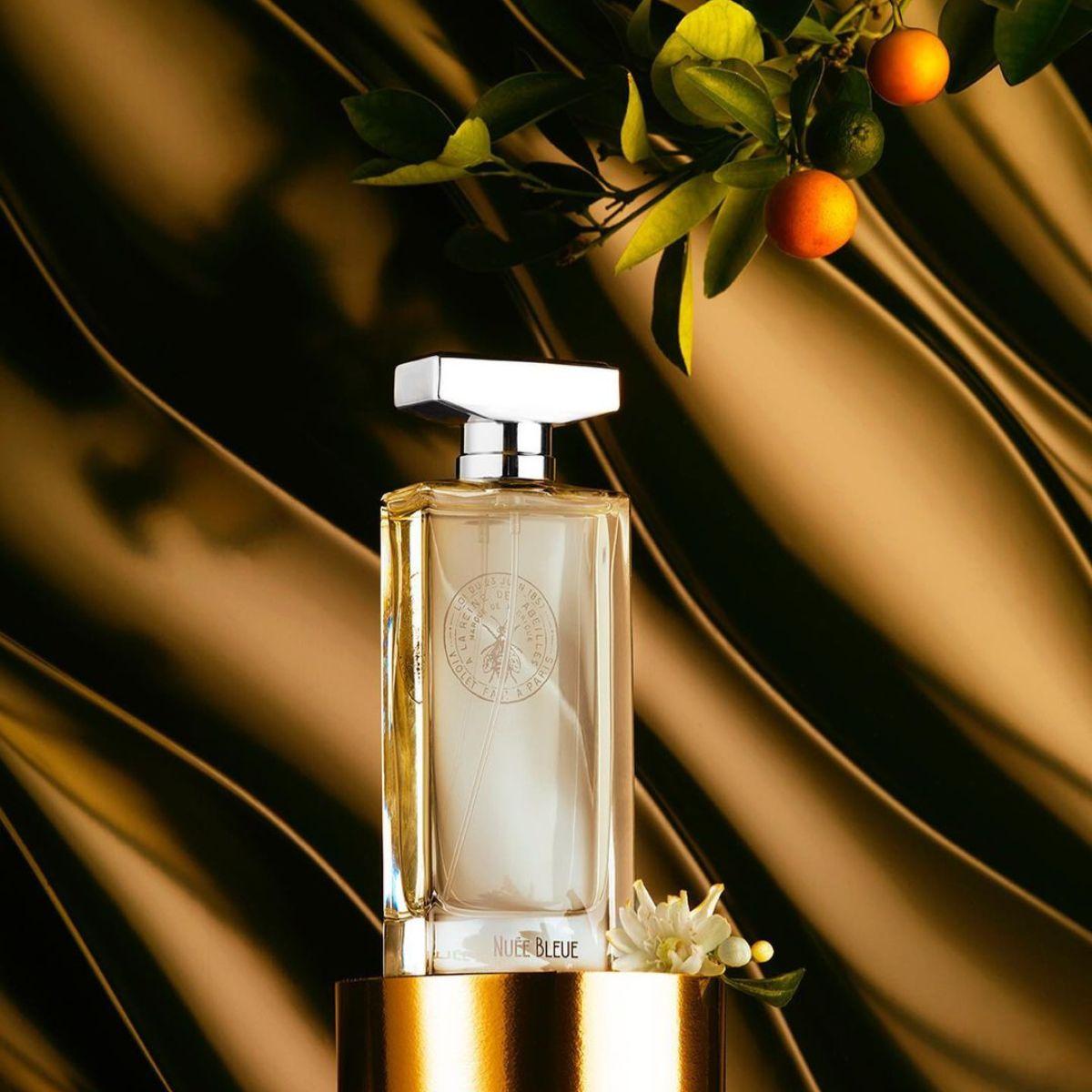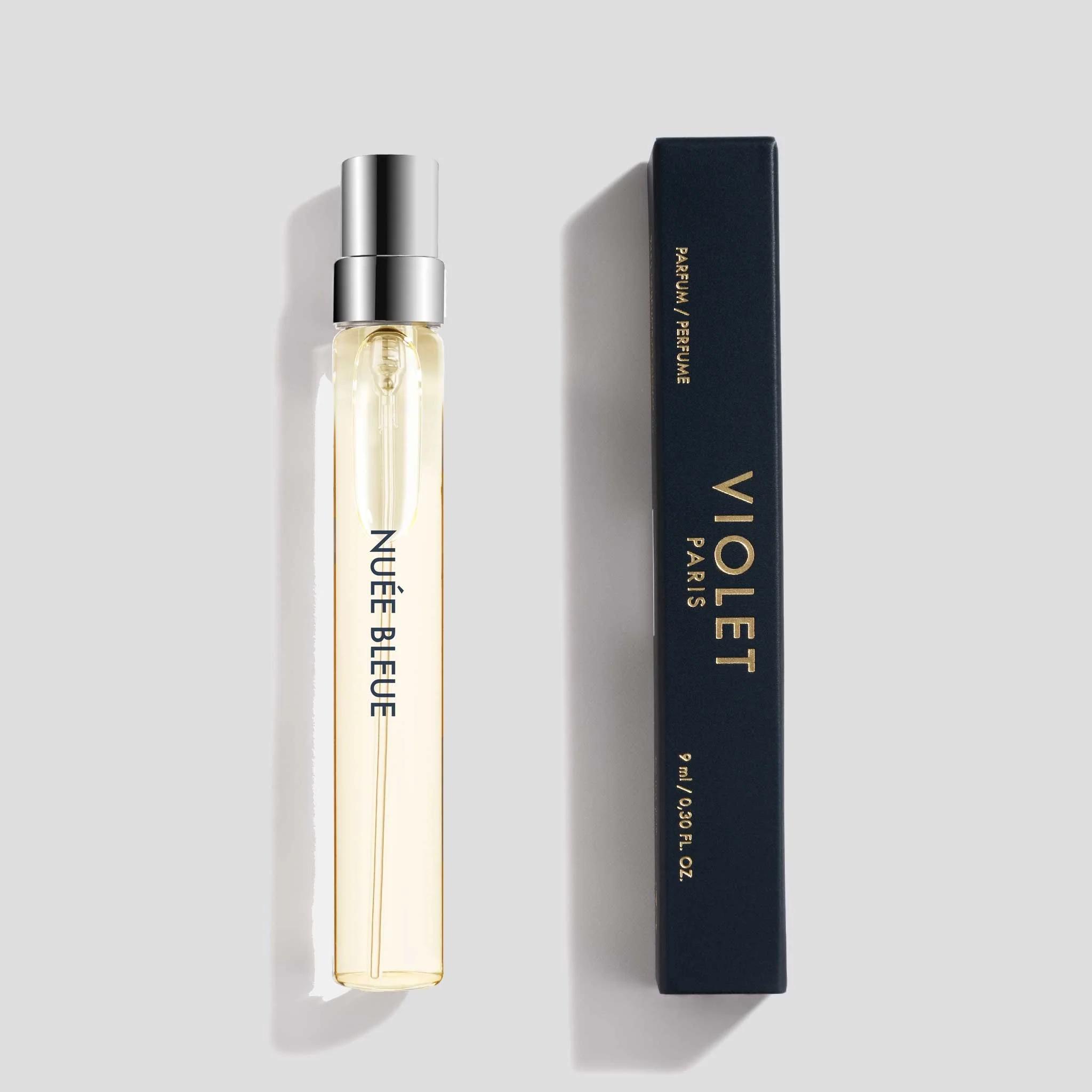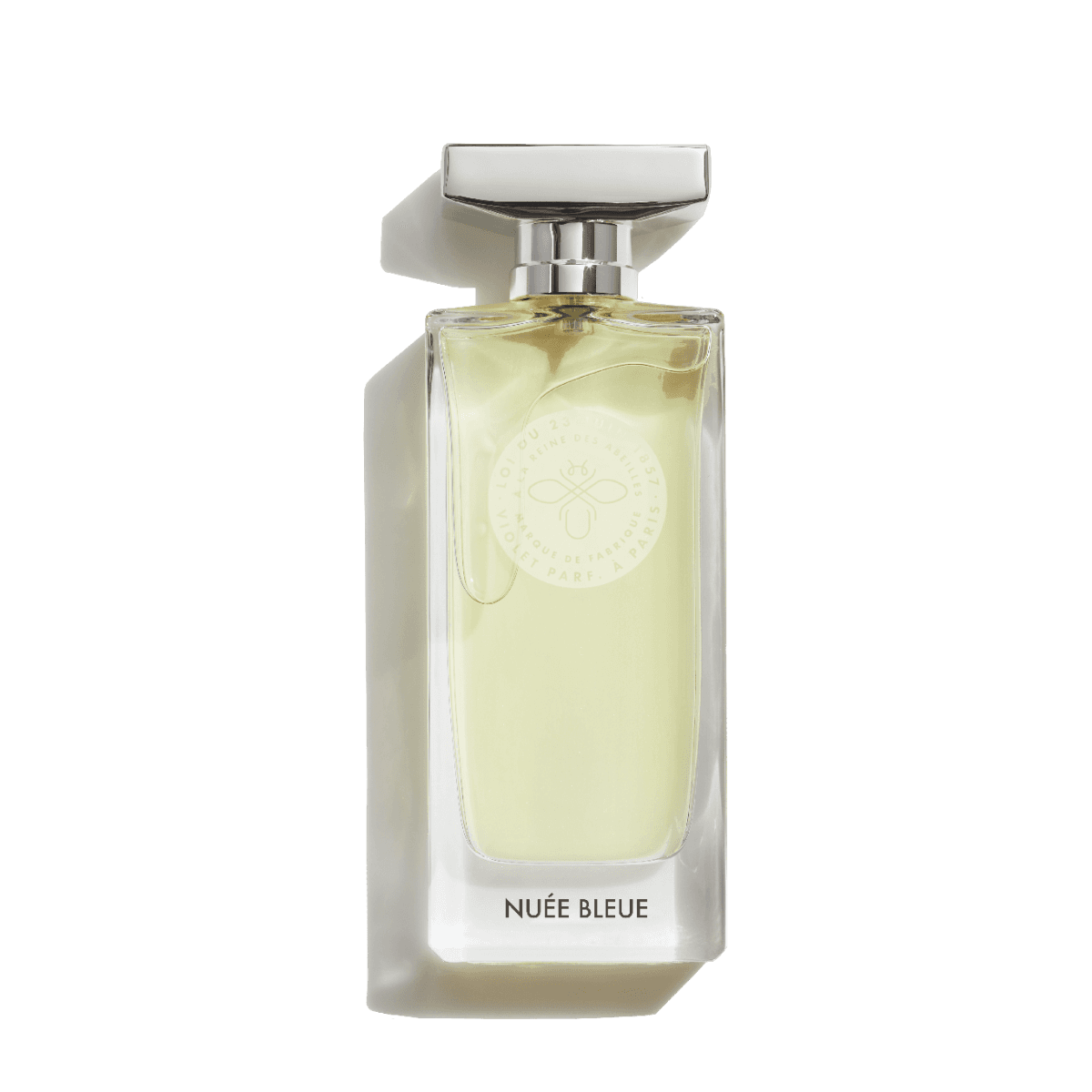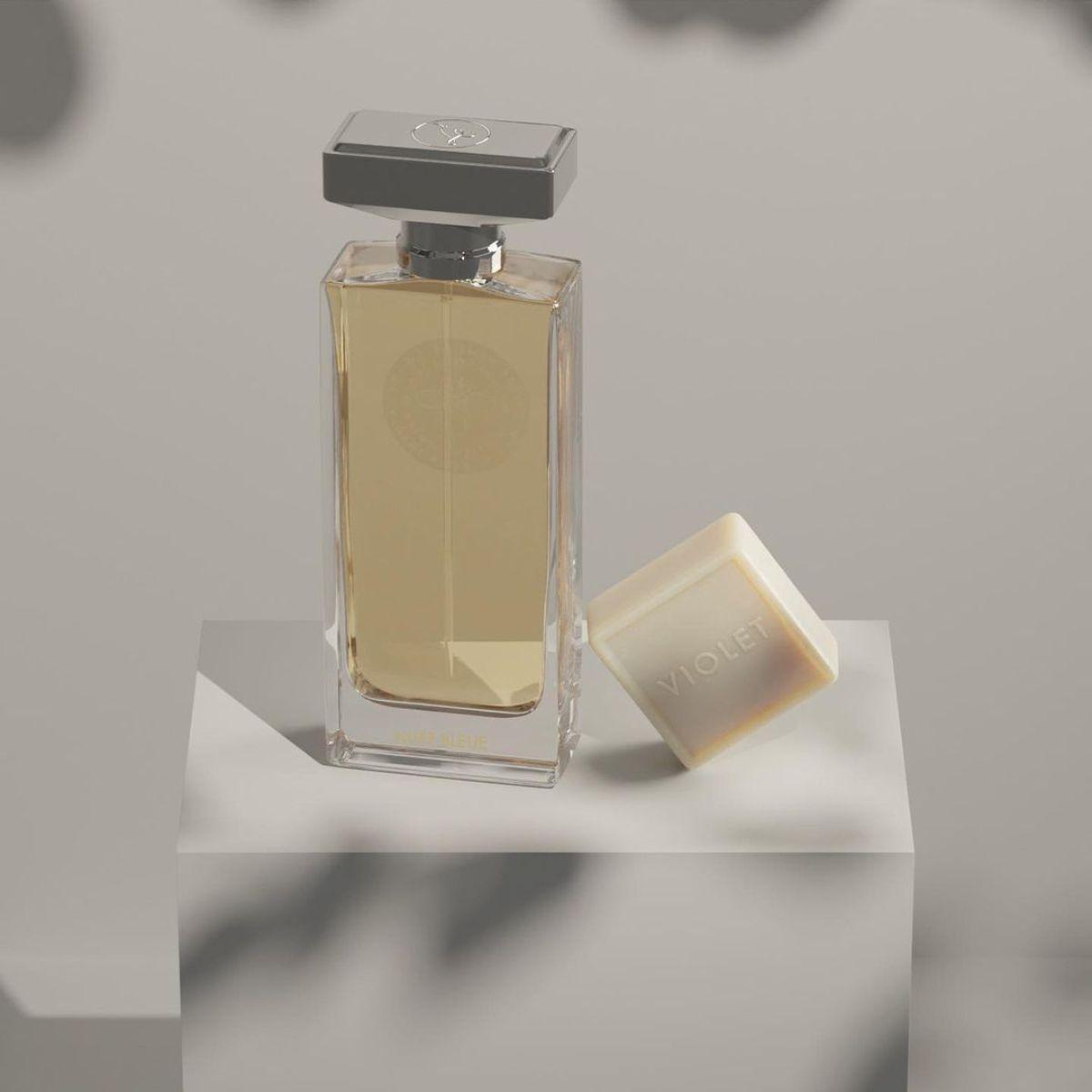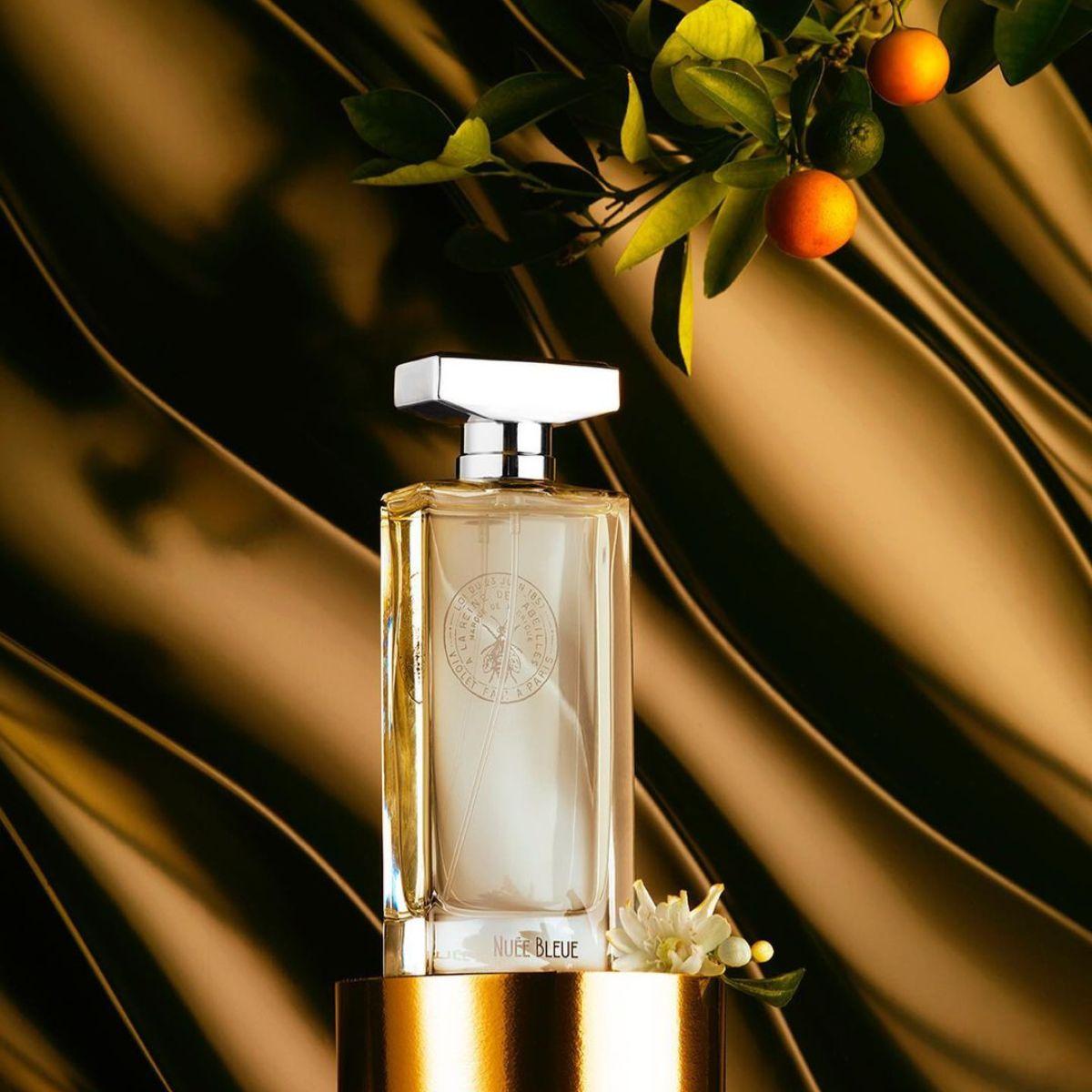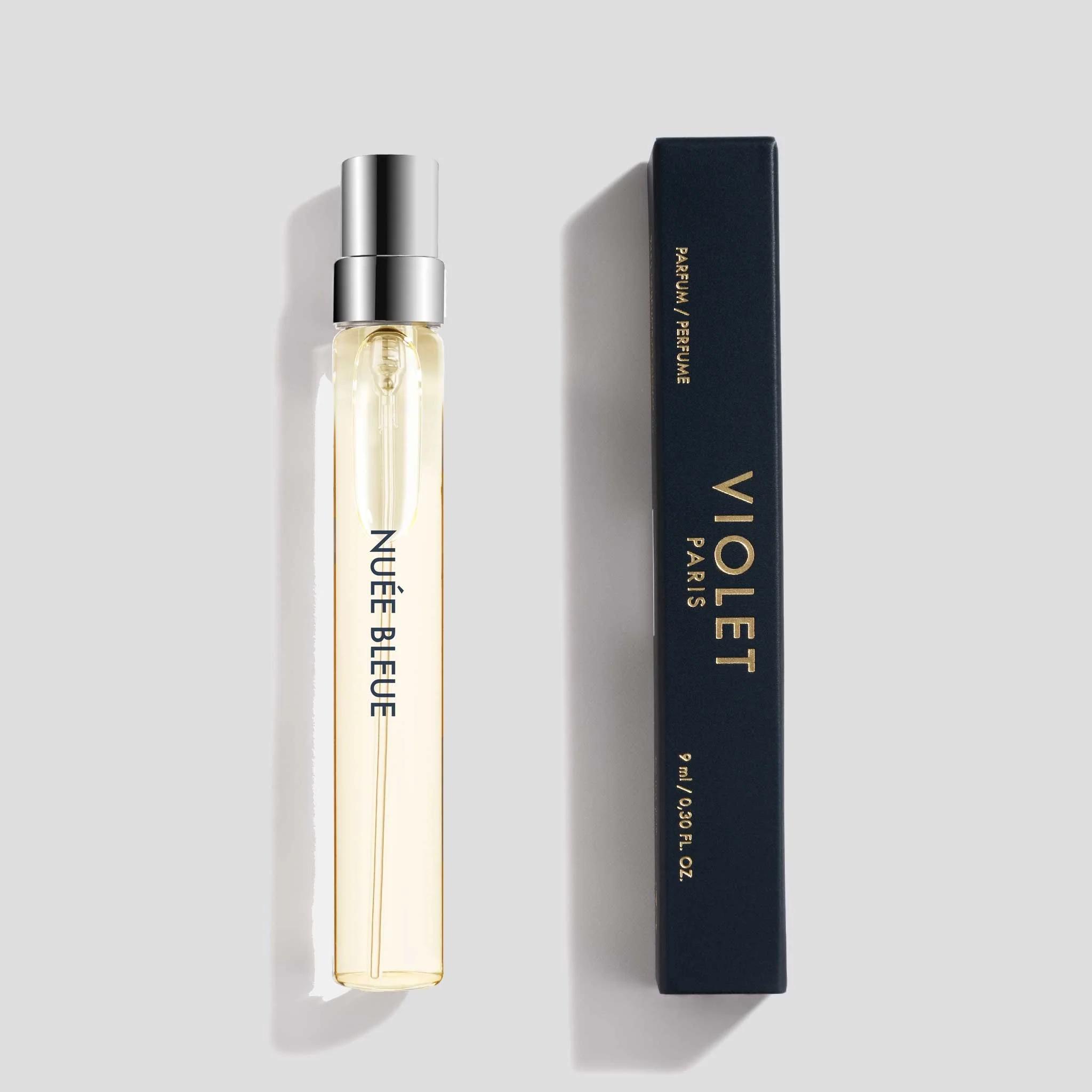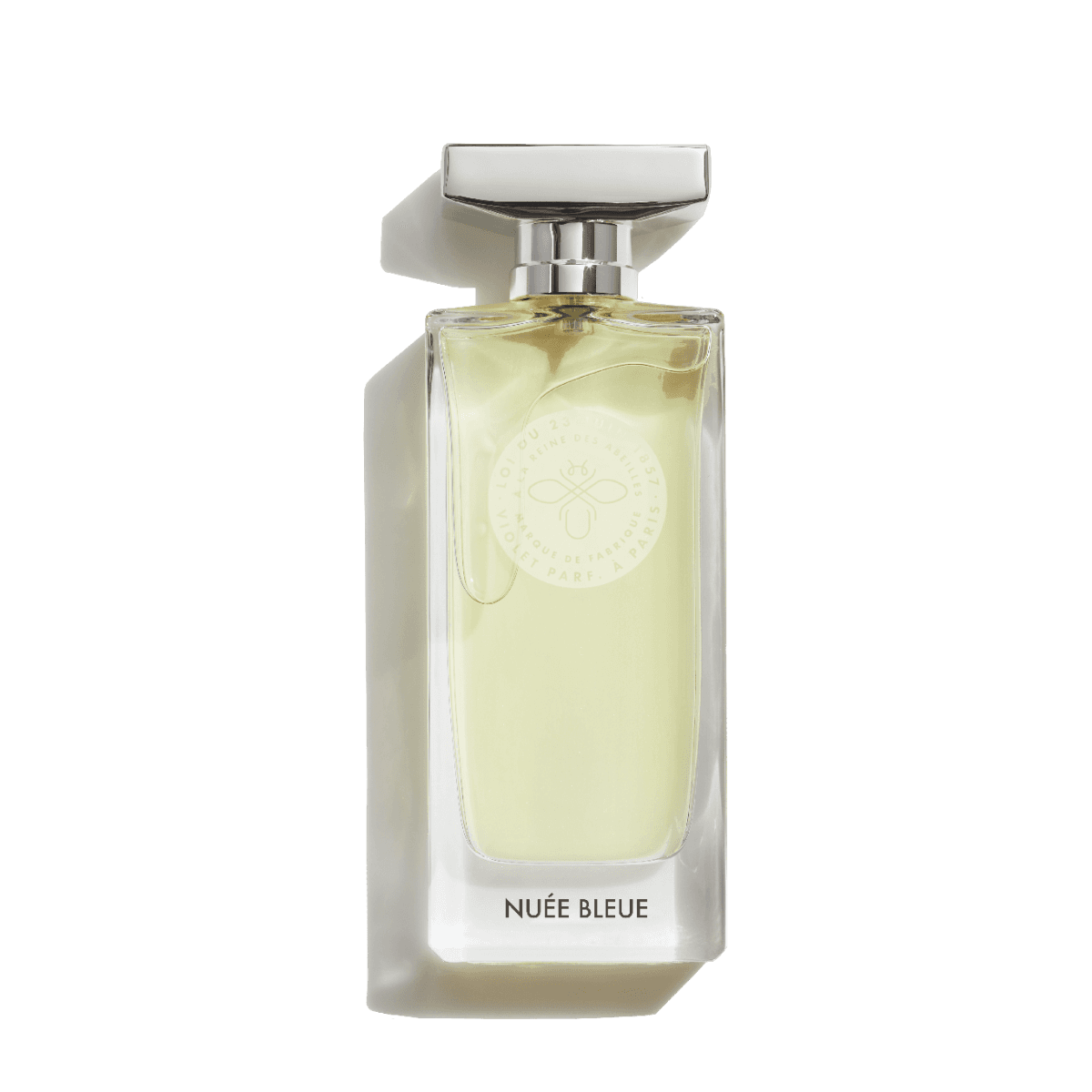 Violet
Nuee Bleue - extrait de parfum
 € 28
Daily worldwide shipping

Free shipping rates available

Free samples & gift wrapping
Nuée Bleue (meaning 'blue cloud') by Violet is a vintage iris perfume with a contemporary feel. It is feminine and elegant, with a soft woody and musky sillage.
Nuée Bleue was the last fragrance marketed by the eponymous perfume company in the mid-1950s, making it the ultimate witness of an era and a significant part of history. For Violet, Nuée Bleue has several meanings. It represented both a moment of fullness and great tension, an in-between state that perfectly embodied the "eau fraiche" genre. It also represents a moment where everything was both light and heavy, soaked and dry.
Orange blossom, Sandalwood, Carnation, Benzoin, Lemon, Orris, Musk, Bergamot
The story of Violet begins at the prestigious perfume school Ecole Supérieure du Parfum in Paris. Having just finished their perfumery training, three friends dreamed of becoming entrepeneurs and to start their own brand. It was during the course of research, by luck, that Anthony Toulemonde, Paul Richardot, and Victorien Sirot came across Maison Violet: a century-old perfume brand, founded by mister Violet in 1827. Immediately intrigued and then deeply seduced by its history and its many secrets, bringing Maison Violet back to life was the obvious step for them. Together with top perfumer Natalie Lorson, they reformulated the historical fragrances, inspired by the brand's classics. In doing so, they intertwined the rich heritage of this brand with the present, offering these elegant and modern creations.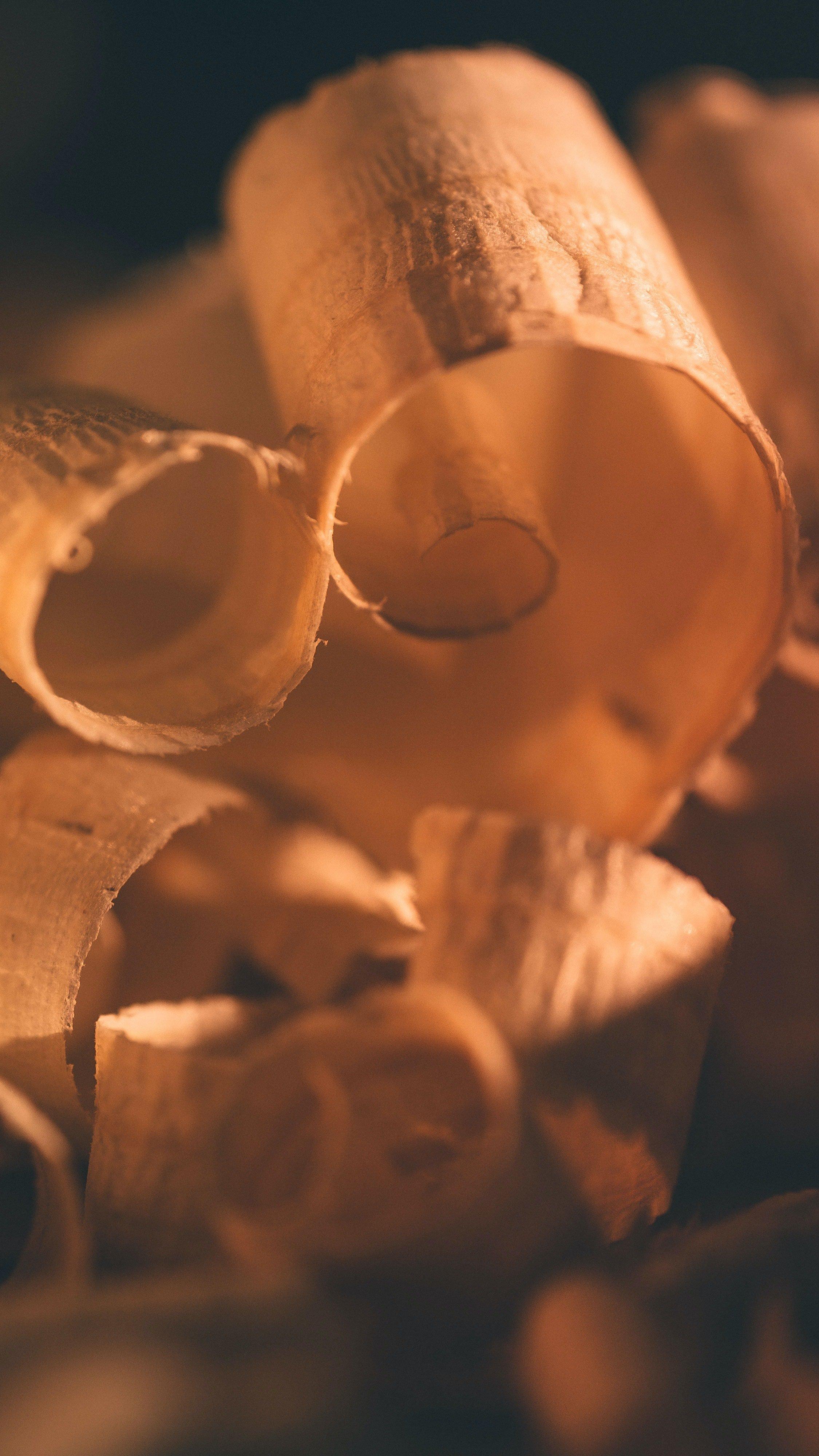 Fragrance family
Woody
Woody fragrances are full of character and indeed very woodsy. They can be warm, soothing and creamy, but also dry and spicy. Key ingredients are cedar wood, patchouli, sandalwood and/or vetiver. Oudh (agarwood), Palo Santo and guaiac wood have also joined the perfumer's palet, just like the fantastic synthetics such as Javanol or Iso-E-Super.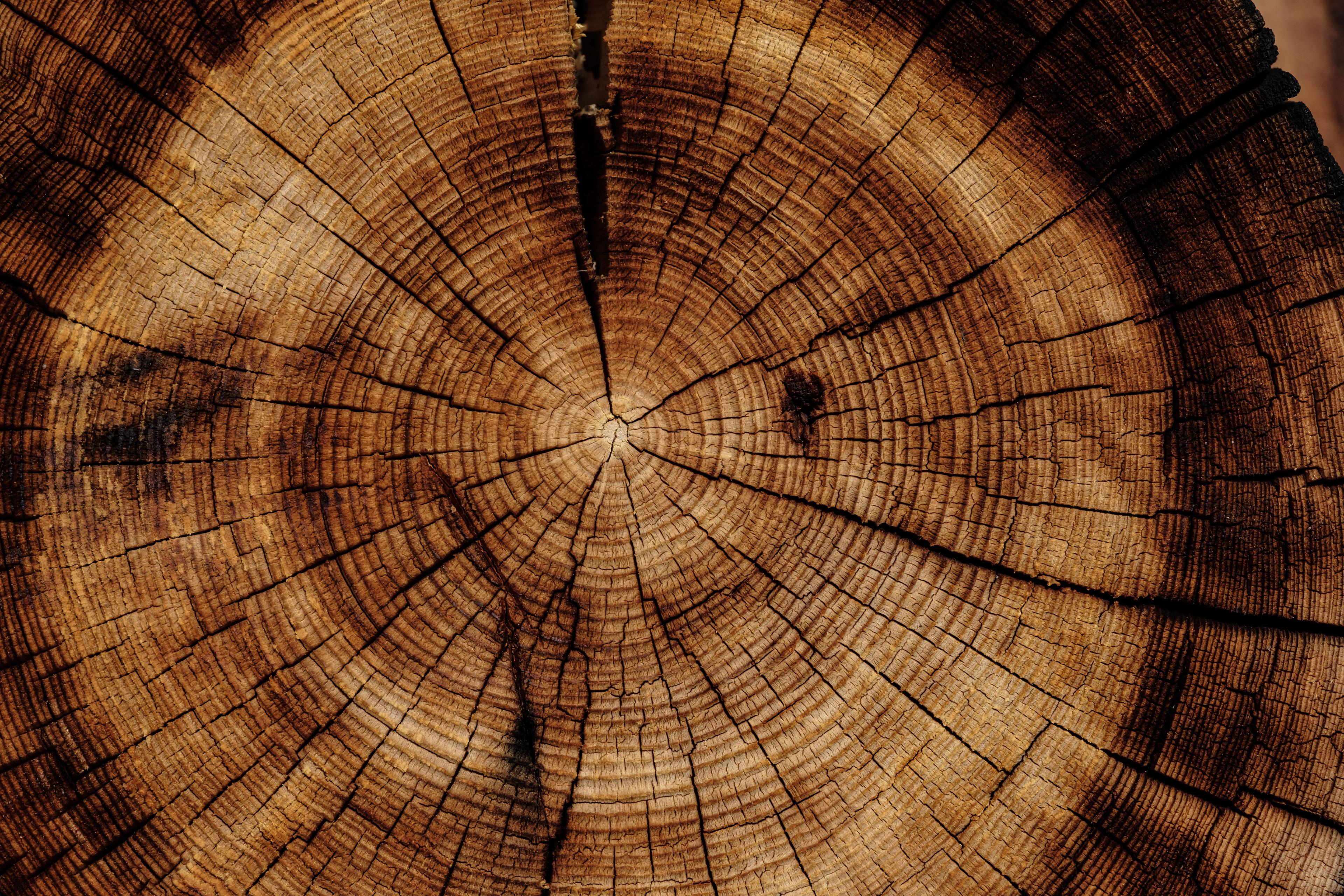 Nuee Bleue - extrait de parfum
Franse elegantie
Nuée Bleue is werkelijk een prachtig parfum! Het is een frisse en heel elegante geur die na verloop van tijd ook iets warms krijgt, maar toch heel zacht blijft. Een bijzonder parfum dat je steeds weer wilt ruiken. Ik verheug mij elke keer weer op het dragen ervan. Wat maken parfums het leven toch extra mooi.. De service was zoals altijd geweldig. Mooi verpakt en heel persoonlijk. Dank jullie wel!
Prachtig parfum!
Wauw, mijn favoriete Iris geur! Zacht, schoon, chic, tijdloos en blijft lang genoeg aanwezig. En wat een fijne ervaring met mijn online bestelling. Handgeschreven kaartje en een paar mooie samples waaronder een kaarsje van MFK. Ik zou graag snel langskomen in de winkel maar ik ga nu eerst een sample set bestellen om nog meer mooie geuren te ontdekken!
Amber de Vries - 2022-01-10
C'est magique...
Beautiful, tender, exceptional - love in the bottle 💖
Nathalie Lorson
Nathalie Lorson was born in Grasse and has been surrounded by perfumes all her life. Her father was a chemist at Roure Betrand Dupont (now Givaudan, one of the largest international perfume companies). She trained to become a perfumer at Roure and then worked at IFF and currently at Firmenich. With dozens of successful and beautiful perfumes to her name, she is undoubtedly a master of her art.