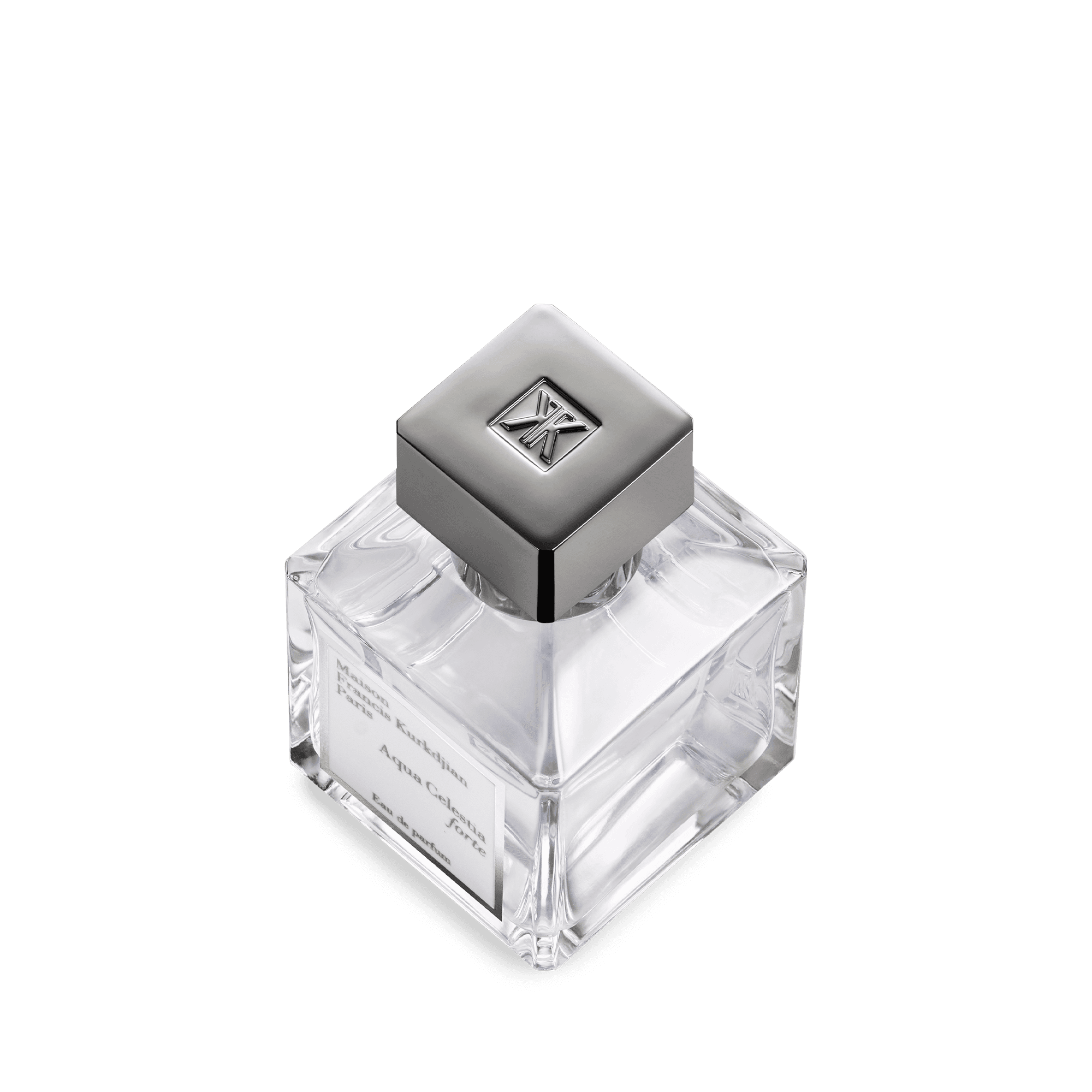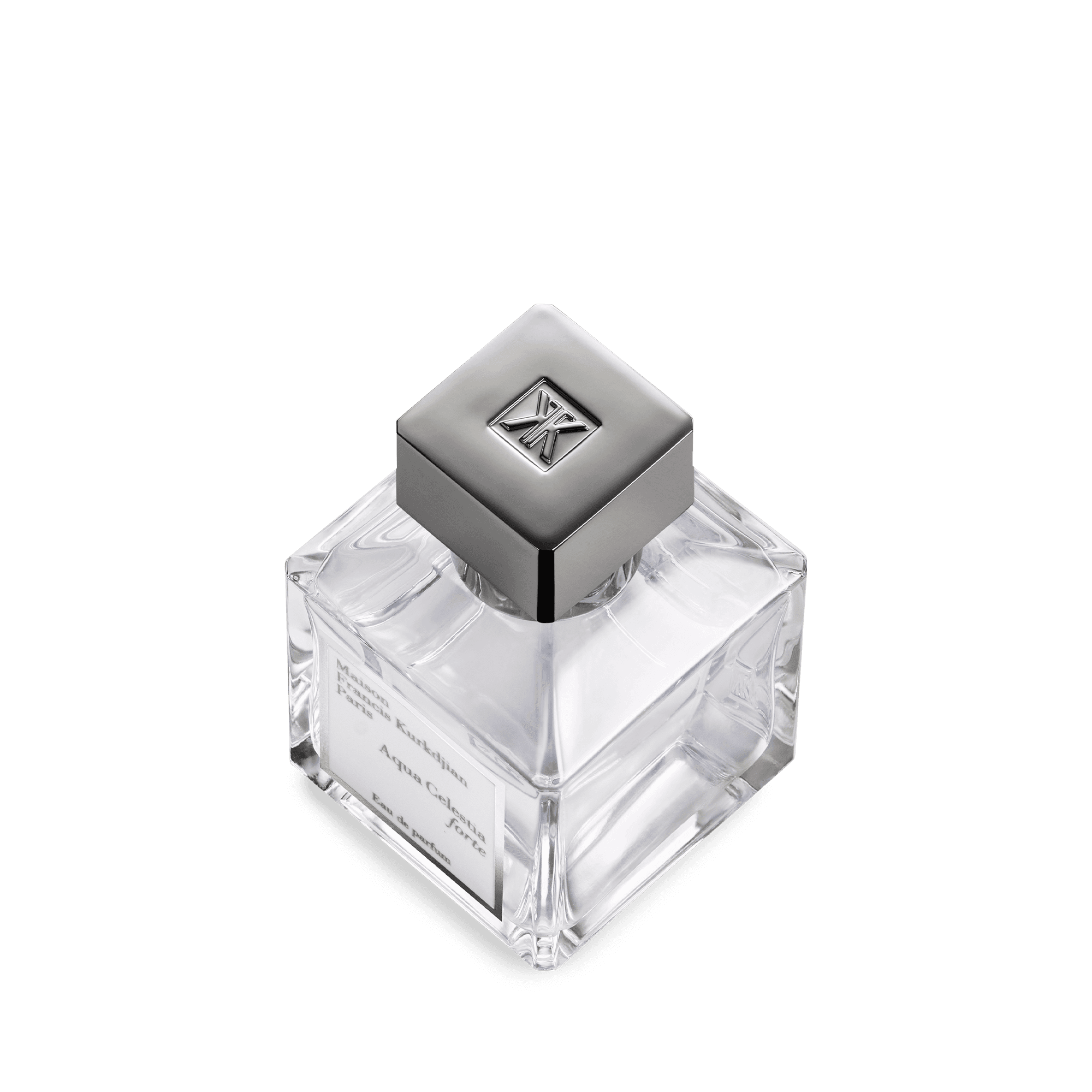 Maison Francis Kurkdjian
Aqua Celestia Forte - eau de parfum
 € 195
Unfortunately, this product is not in stock at the moment. Leave your e-mail address if you wish to be informed when it is back in stock.
Daily worldwide shipping

Free shipping rates available

Free samples & gift wrapping
The refreshing and elegant creation of Francis Kurkdjian, Aqua Celestia, is also available in an ultimate fresh version as Forte eau de parfum. It is transparent, clean, and well-cared for, with a creamy musky base. The fragrance has a refreshing opening of mint and invigorating lime, and a happy and friendly touch provided by blackcurrant and mimosa. It is anchored on a fixative base of musk, making it suitable for wearing on any occasion and in any weather.
The scent is described as "heavenly freshness," reminiscent of air-dried bed linen and laundry on a sunny day in spring. It provides an invigorating feeling, similar to the sensation of just stepping out of the shower.
Blackcurrant, Mimosa, Jasmine, Lime, Musk, Mint, Petitgrain
Maison Francis Kurkdjian hardly needs any further introduction: Francis Kurkdjian is a star perfumer who has been creating scents for impressive fashion brands before he started his own Maison in 2009. With great elegance, Kurkdjian knows how to combine the two cultures from his French-Armenian background into perfumes that suit everybody. Kurkdjian is versatile, creative, and a visionary, combining his passion for fashion with his knowledge of fine fragrances. His collection is a fragrance wardrobe, choose your fragrance on your mood and the moment.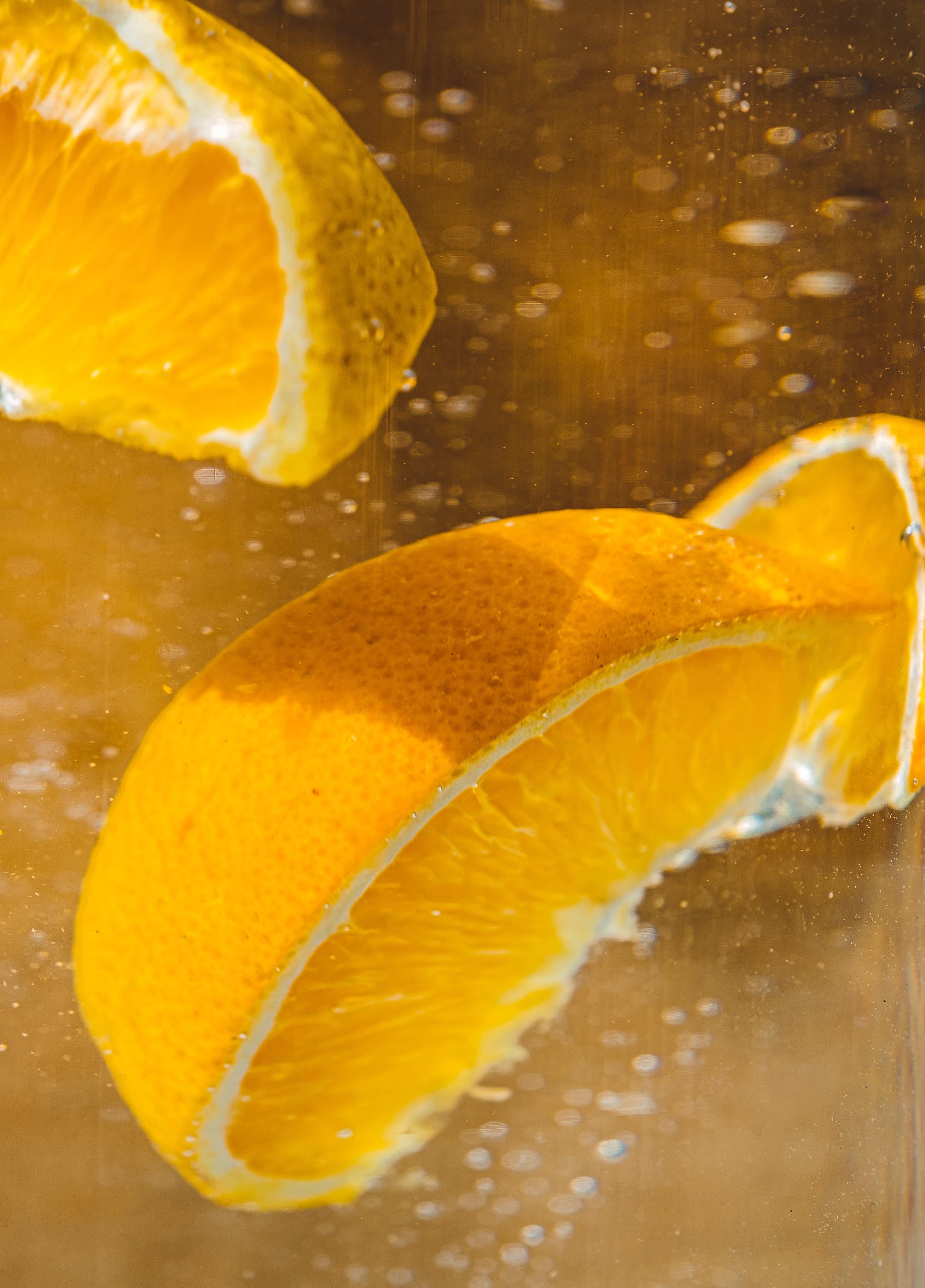 Fragrance family
Citrus
The citrus fragrance family is juicy, sparkling, and energizing. Perfumes with citrus tickle your nose by its fizzy fresh top notes. These zesty fruits elevate your mood and bring a smile to your face! Enjoy the colorful varieties of bergamot, lemon, lime, grapefruit, orange, mandarin, yuzu, cedrat, and more.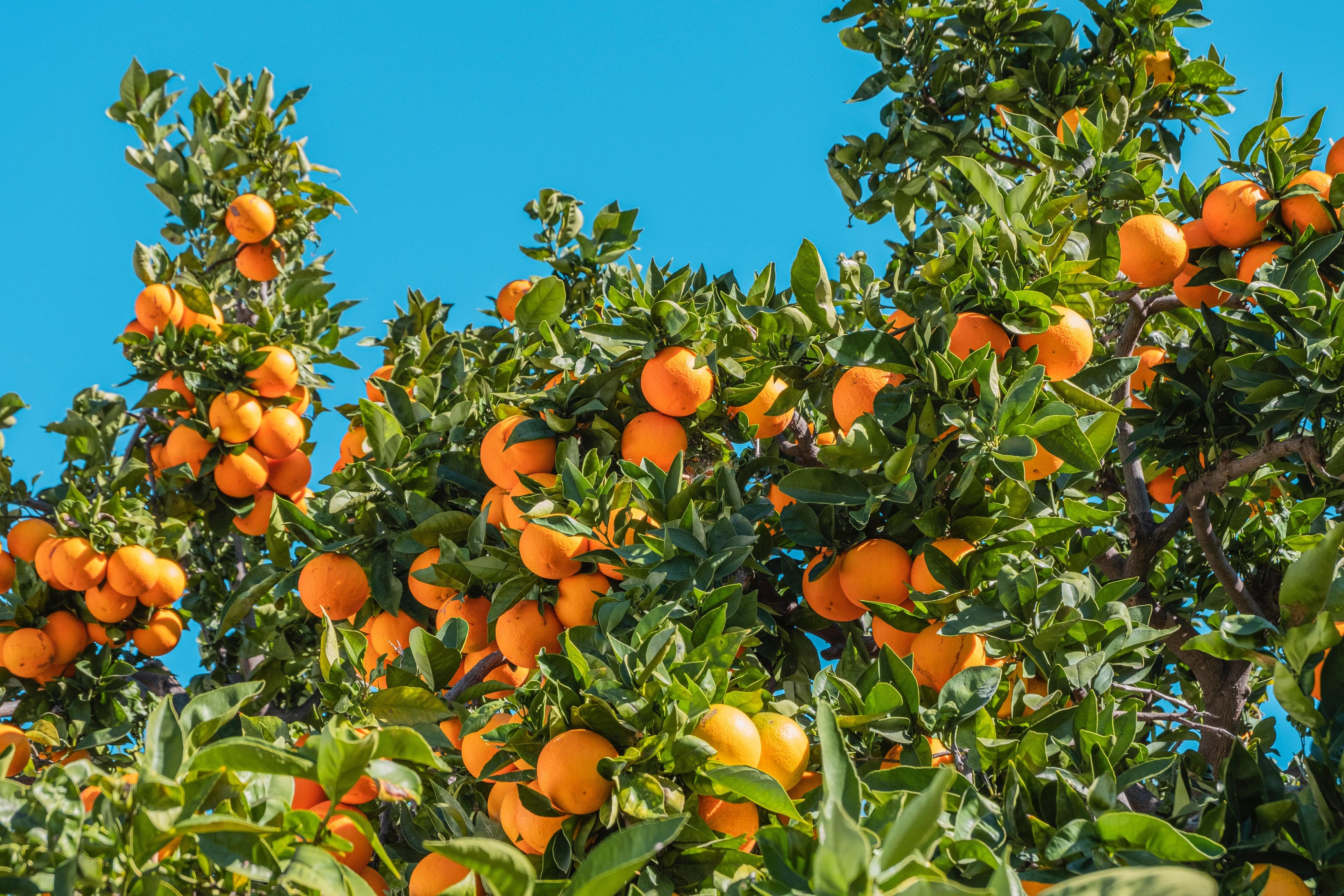 Aqua Celestia Forte - eau de parfum
Ellen de Kanter - 2020-09-28
Maison Francis Kurkdjian - Aqua Celestia Forte
In my opinion, this fragance gets 4-stars due to its versatility and lasting power. Going towards a fresher, more citrus profile, this frangance performs quite well in my skin, around 6 to 7 hours, which is relatively good for a fresher scent. The sillage is good, not extreme, which makes it more versatile in my opinion. However, I would personally choose Aqua Universalis Forte over the Celestia. As any frag from MFK, it is worth the try though.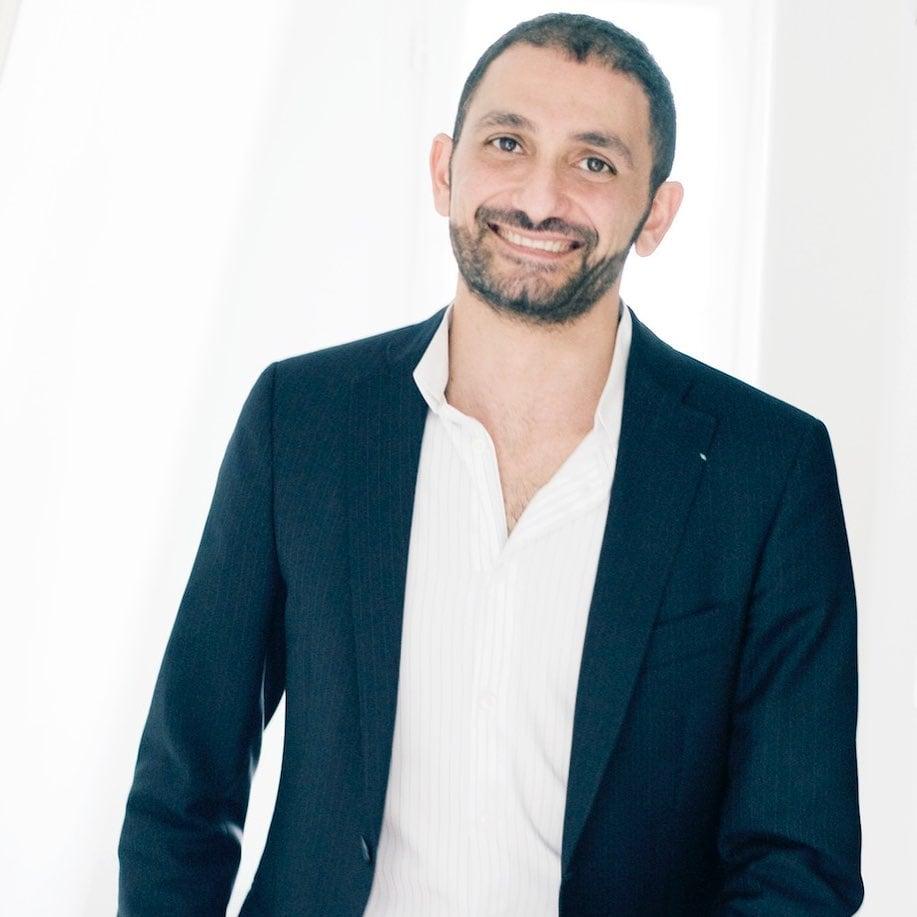 Francis Kurkdjian
Francis Kurkdjian hardly needs any introduction: this famous perfumer already made a name for himself at the age of 26 when he created the international best seller Jean Paul Gaultier Le Male. The following decade, Kurkdjian worked for prestigious brands, including Dior, Elizabeth Arden, Versace, Yves Saint Laurent, alongside collaborating with private clients. After working with big brands, Kurkdjian embraced a new opportunity and started his very own brand in 2009: Maison Francis Kurkdjian. Perfume Lounge was at the launch of this beautiful brand in Paris and was proud to introduce his brand to the Netherlands as the very first perfumery. Kurkdjian is versatile and creative. He elegantly combines two cultures of his French-Armenian heritage into fragrances with a natural richness. The collection of Maison Francis Kurkdjian is like a perfume wardrobe for different moments, emotions and moods.