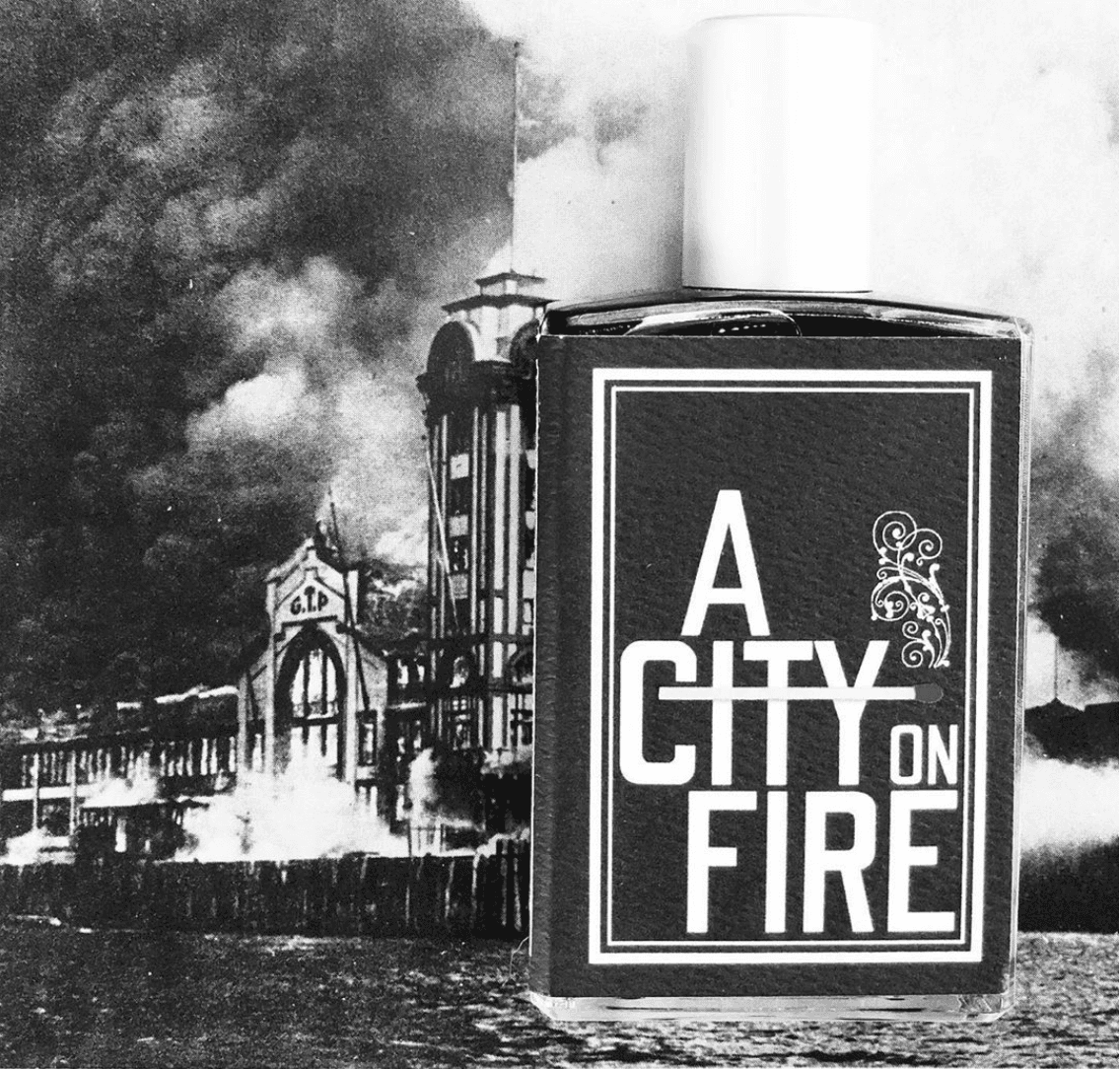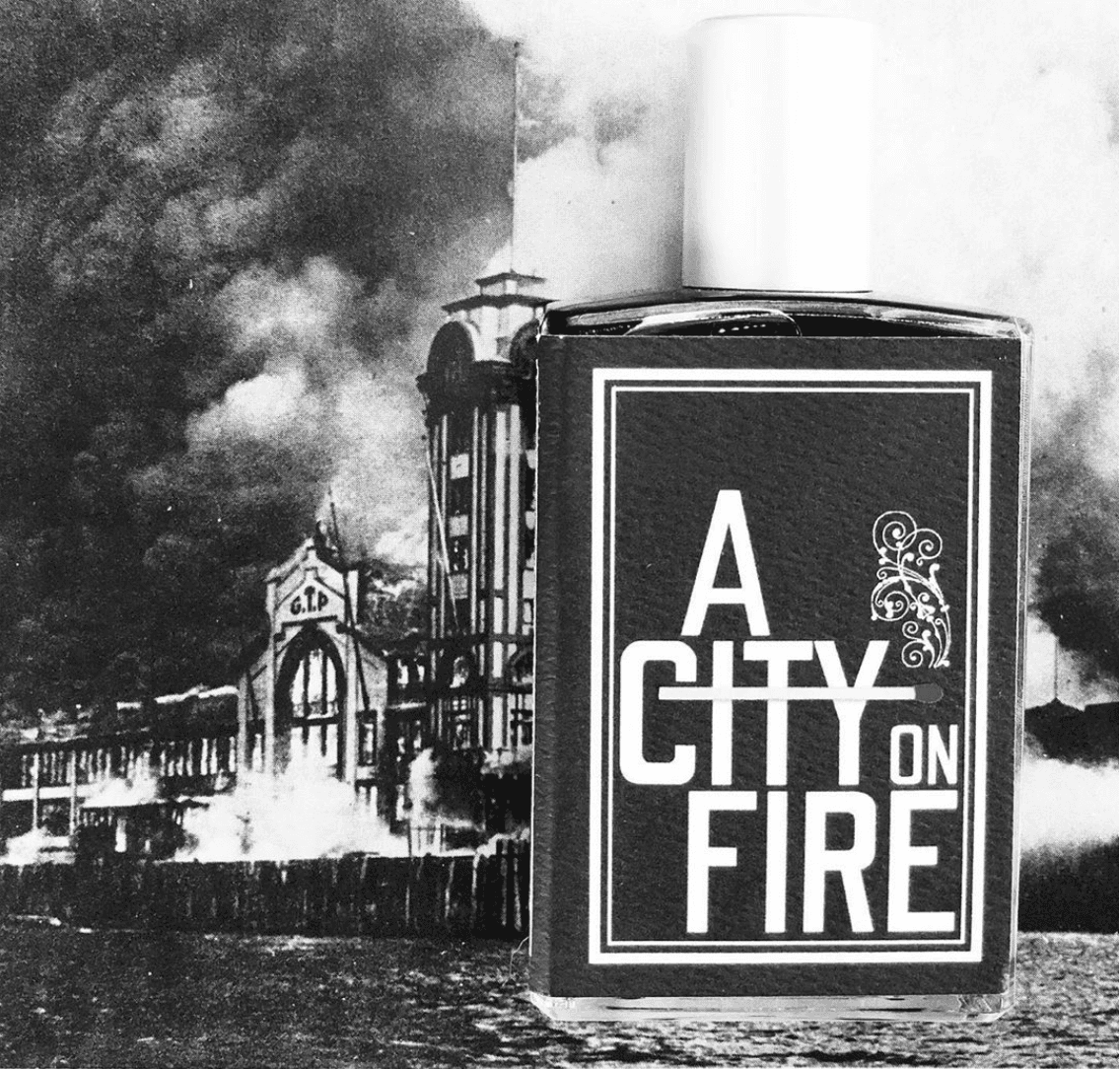 Daily worldwide shipping

Free shipping rates available

Free samples & gift wrapping
A City on Fire by Imaginary Authors is an exciting, warm and comfortable fragrance, yet outstanding by its smoky character.
The refined smoke accord makes this an austere and luxurious scent for nights on the town, with a special someone or alone, looking for trouble….
Inspiration Imaginary Authors: "A brilliantly dark graphic novel, A City On Fire, is the story of two match-makers. Rupert literally fabricates matches in a factory on the waterfront while Frances writes a dating column for the city's newspaper. Both are recluses who haunt the night's shadows observing clandestine activities from afar but never partaking."
Cistus labdanum, Blackcurrant, Cardamom, Spikenard, Clearwood
The stories about the fragrances from Imaginary Authors are pieces of art in themselves. Compelling, with the necessary drama, romance, and plot twists the stories exist parallel to the perfumes. Perfumer Josh Meyer makes the scents first, after which he and his creative director Ashod Simonian form the texts. They let themselves be inspired by the stories the fragrances and ingredients tell them. This way, they come up with playful ingredients, such as 'first kiss' in Sundrunk.
Fragrance family
Smoky
Let smoky perfumes allure you by its mystifying layers like tobacco, leather, guaiac wood, amber, incense, vetiver, and many more.
A City on Fire - eau de parfum
een welriekend lucifer
Wat een heerlijke geur! Een smeulend houtvuurtje met geurige kardemom wat het een beetje kruidig maakt. In de opening ruik ik de bessen vrij sterk, waardoor het hout fris en enigszins zoet ruikt. Een van de vele bijzondere geuren van Imaginary Authors. Een huis die me aanspreekt ook door hun gevoel van humor: de denkbeeldige boeken en verzonnen geurnoten, enz. Ook de presentatie is prachtig. De geur maakt mij vrolijk en blijft de hele dag hangen.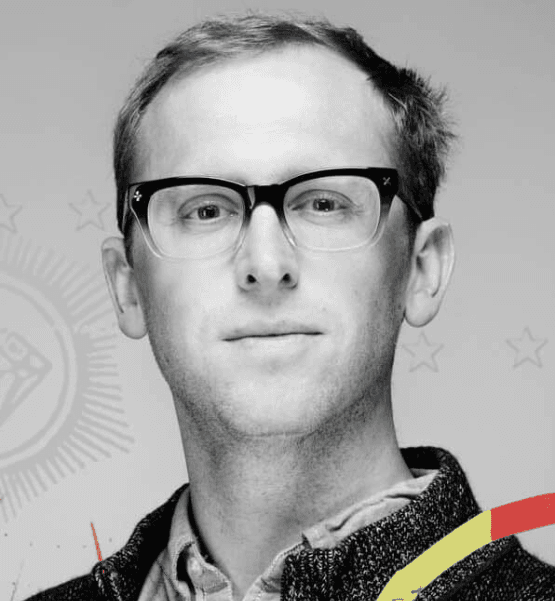 Josh Meyer
Josh Meyer enjoys the refined things in life: whiskey, literature, haute cuisine and music. After he discovered the fascinating world of niche perfumes, he taught how to make perfumes himself by spending hours in his laboratory, researching and improving them. Josh works closely with his creative director Ashod Simonian, together they write the storyline before launching a new perfume. Josh's laboratory is located in Portland, Oregon, America.