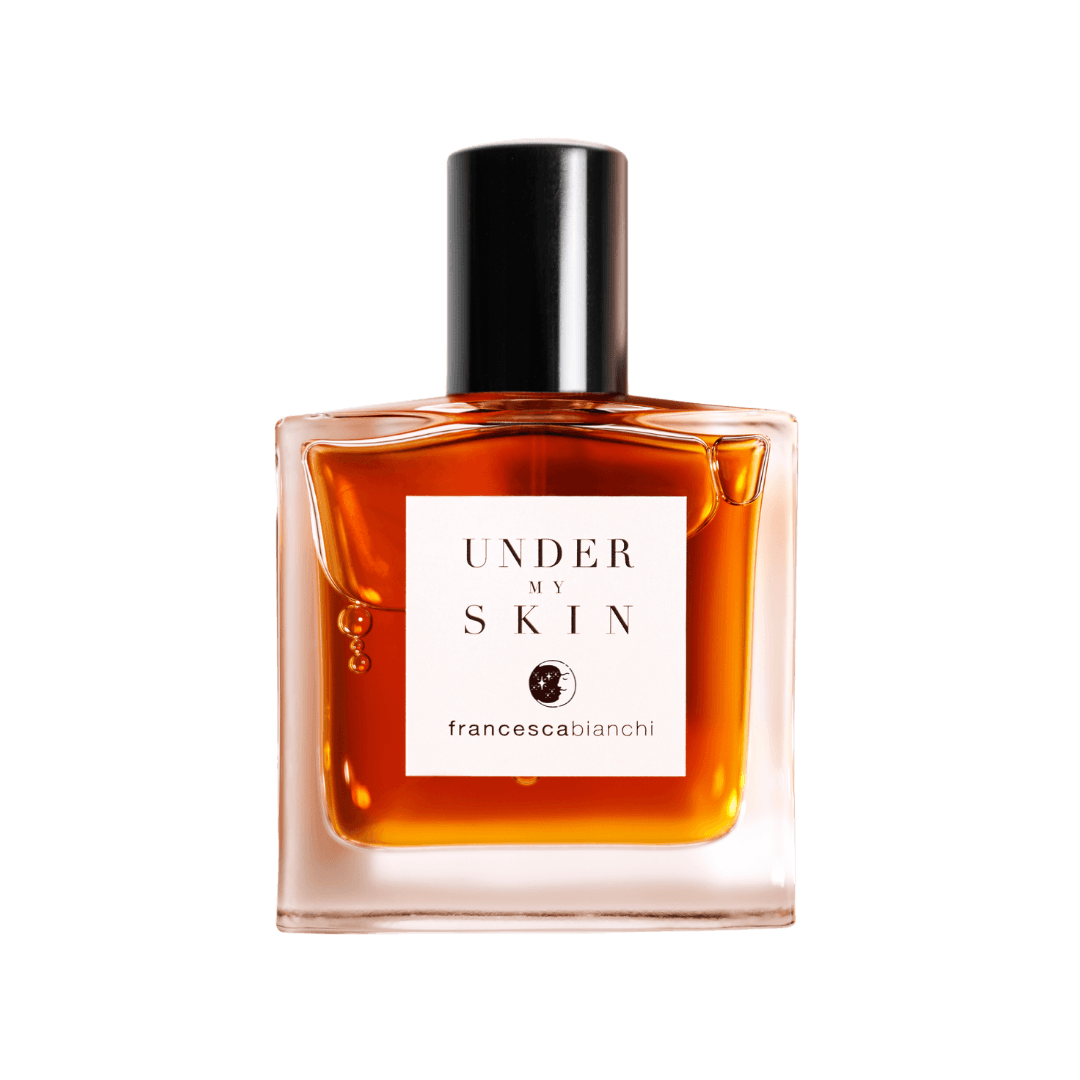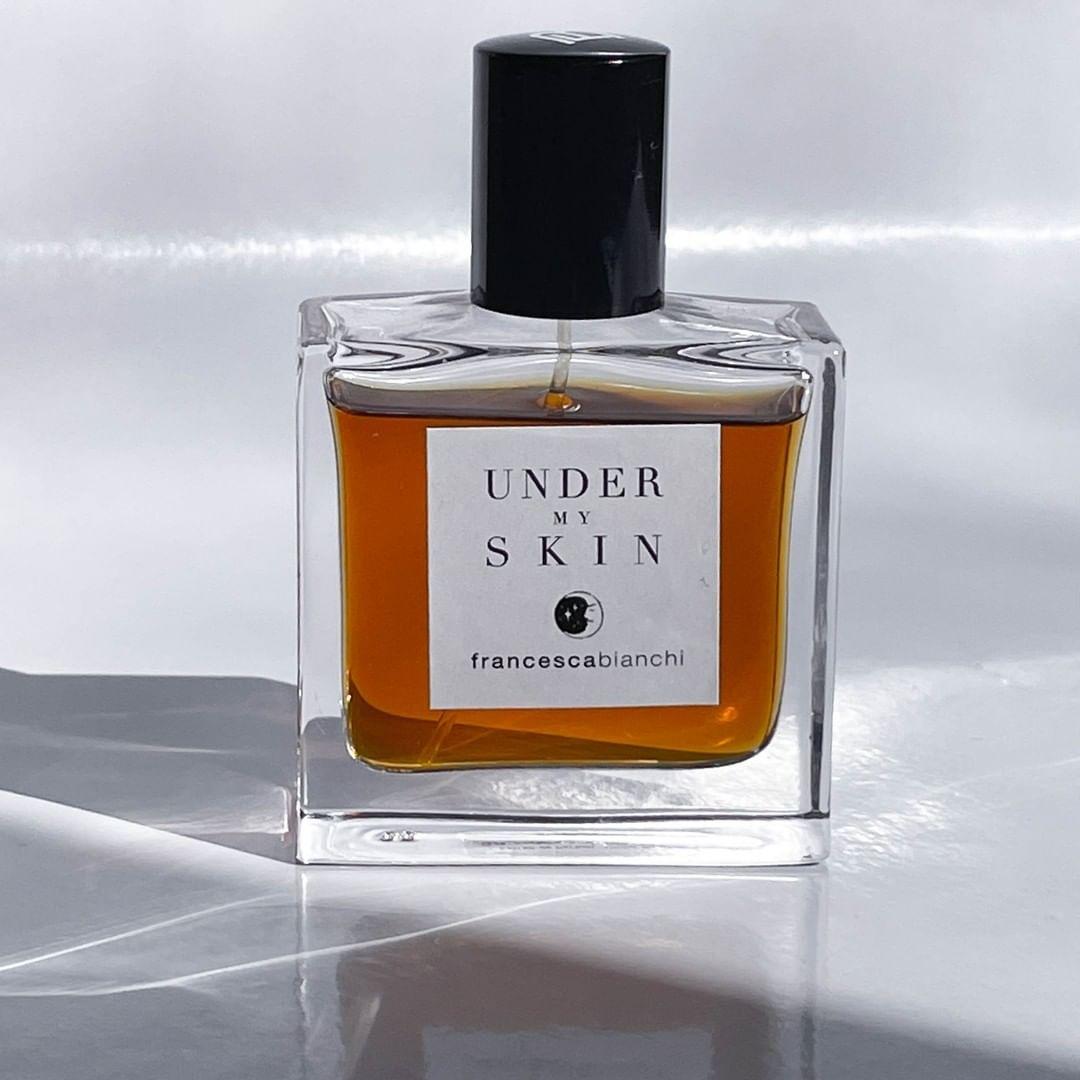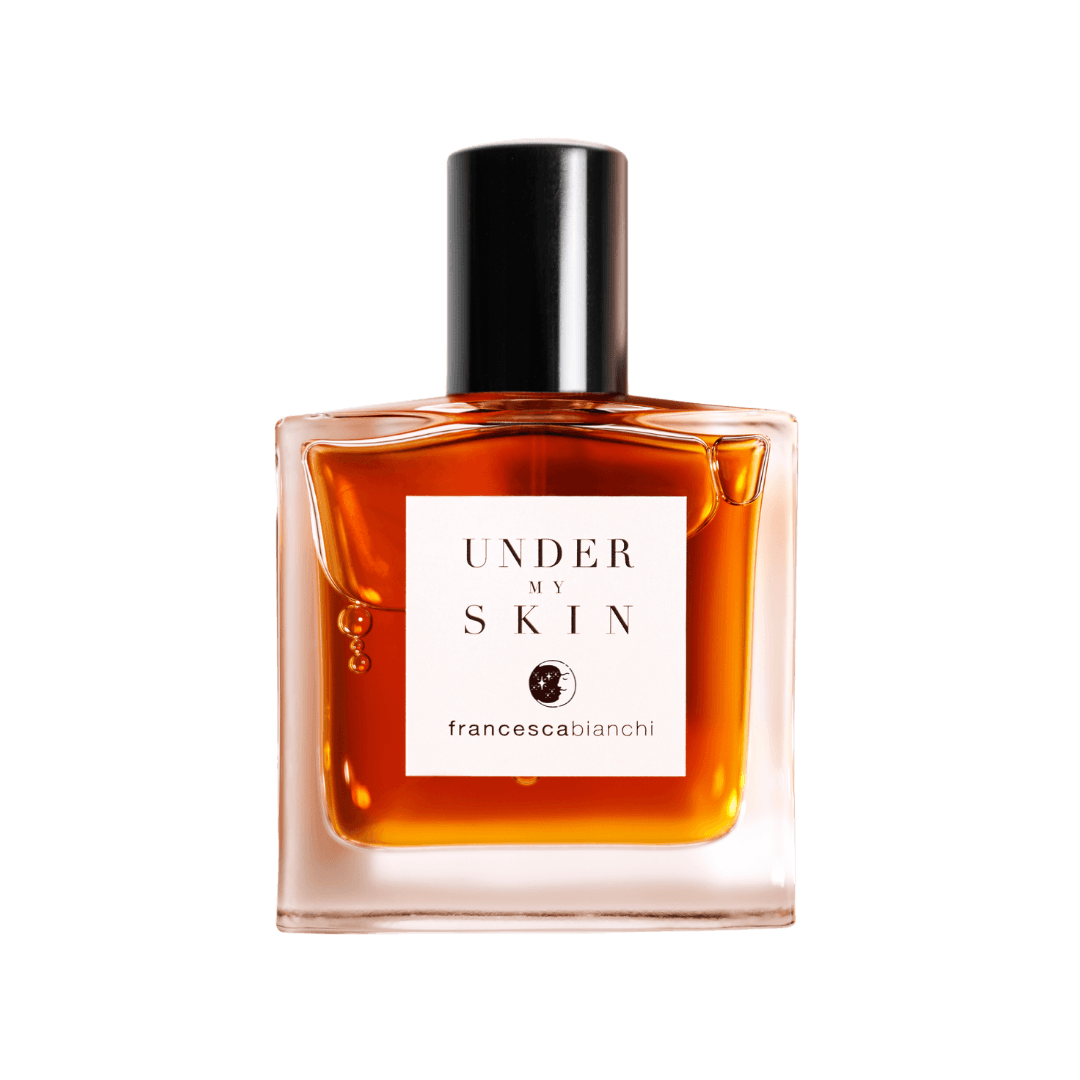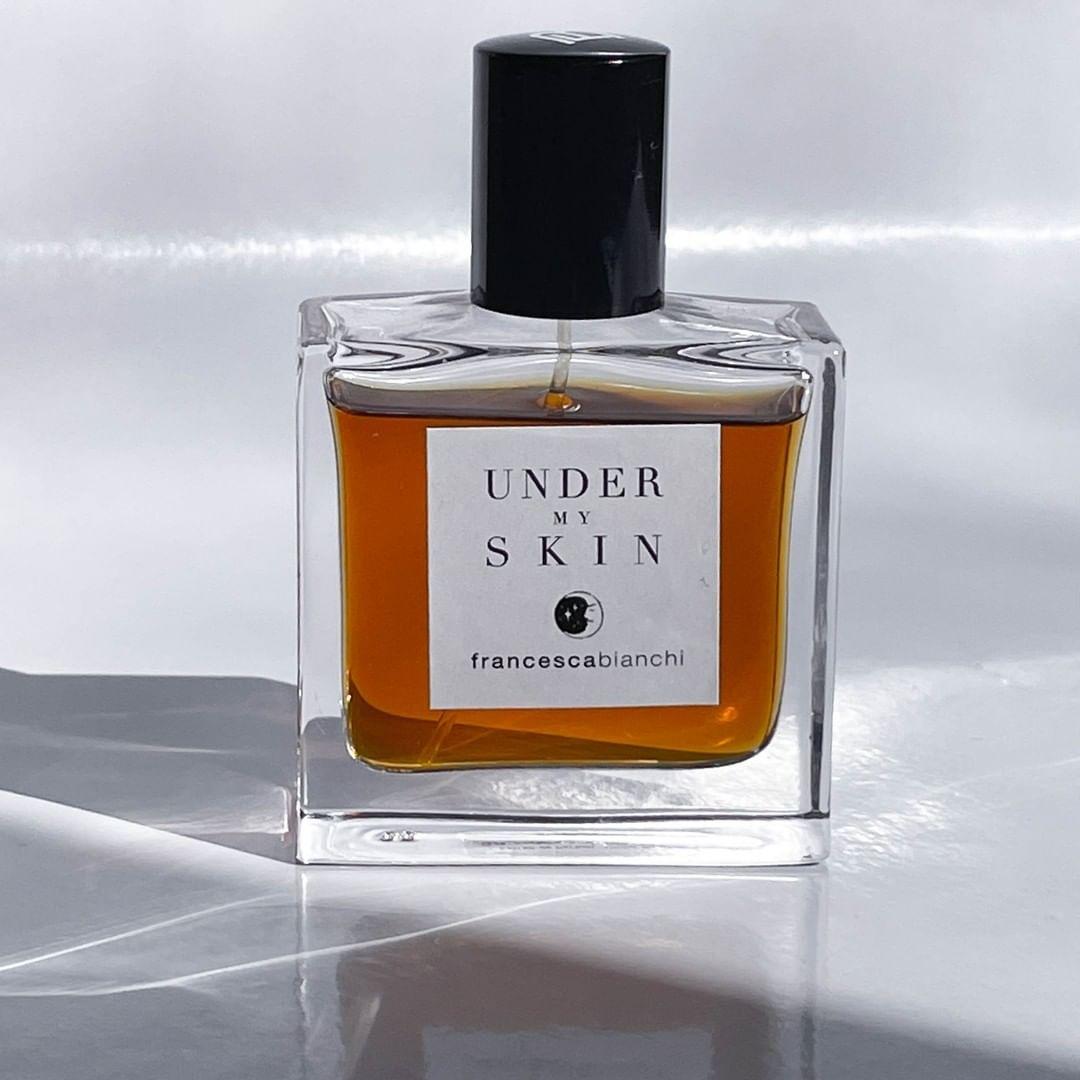 Daily worldwide shipping

Free shipping rates available

Free samples & gift wrapping
Under my Skin is a leathery, slightly animalic, powdery perfume, a velvety and elegant take by Francesca Bianchi.
Explained by Francesca Bianchi herself:
"Under My Skin is my interpretation of the animalic theme. So after adding animalic materials going into the heavy or sweet or stable-like direction, I had to eliminate them little by little, and arrive to this solution which suits me the best: a leathery, slightly animalic, powdery one, a velvety and elegant take. It goes along with my personality and my style and when I finally realized that this was my way, I was finally happy and relieved.
The name comes from a conversation with an artist and fragrance lover, who said it is as if the scent emanates from the skin. This concept of 'Under My Skin' reinforced my path of going into something more subtly 'human' than overtly 'animal'. The core of the scent is a combination of animalic and leathery notes tamed by iris butter (at 15% irone!). After working on this core, I worked on the base notes, made up by Tolu Balsam, Peru Balsam, Tonka Bean and several kind of woods."
Rose, Tonka beans, Vanilla, Sandalwood, Black pepper, Oakmoss, Carnation, Ambergris, Castoreum, Peru Balsam, Grapefruit, Orris, Lavender, Leather, Musk
Francesca Bianchi's perfumes are sensual, intimate and provocative. "Made by Italian hands", a beautiful statement to describe this brand of Amsterdam-based and independent perfumer Francesca Bianchi.
The Italian perfumer Francesca Bianchi started with her first creations in 2016. Luca Turin rated her Angel's Dust with 4 stars! At the age of 28, her fascination for essential oils started. This grew out to be a true passion which she converted into creating perfumes. We enjoy working together with this extremely passionate and crafty perfumer. With great pleasure we co-created Cuir Soyeux, a limited edition creation by Francesca, to celebrate our 10 year anniversary.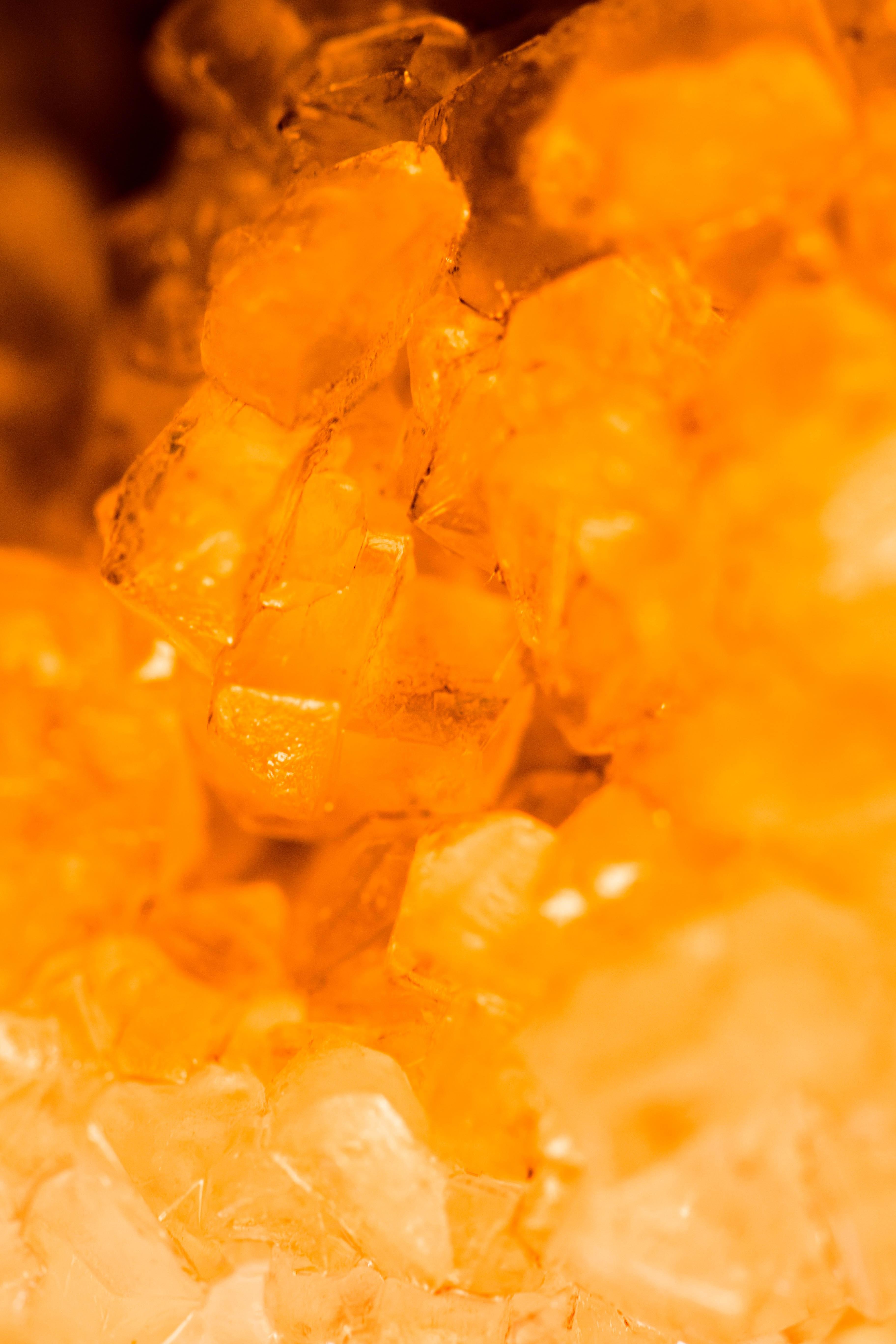 Fragrance family
Amber
The amber fragrance family contains warm, spicy and often sensual perfume notes. Classic amber fragrances are built around an amber accord, often consisting of patchouli, benzoin, labdanum, vanilla and musk. Also, amber can refer to natural ambergris or synthetic amber, such as Ambrox or Ambroxan.
Under My Skin - extrait de parfum
Beautiful
Another top-notch scent from Francesca Bianchi. Love it.
Parameshwar Iyer - 2020-11-28
Zwoele winteravonden
Sensueel en sexy zeker! Een (voor mij persoonlijk) ietwat te sterk aanwezige start van kruidnagel die gelukkig na enige tijd de poederige en zwoele geuren de ruimte geeft. De geur doet mij verlangen naar een berghut in de sneeuw waar je vertoeft in warmte en knusheid met een haardvuurtje, een uitstekende whisky en een glas volle rode wijn. Ik vermoed dat 'under my skin' ook een heel fijn herenparfum is.
Under my skin van Francesca Bianchi.
Under my skin van Francesca Bianchi is een heerlijke poederig parfum. Het begint kruidig en geleidelijk gaat het over in balsemachtig/lederachtige geuren en eindigt in een vleugje sandelhout. Zacht en vol en houdt zeer langdurig aan. Heerlijk!
sensuality in a bottle
Heel erg sensueel en sexy ! Ik heb 4 samples besteld van Bianchi en dit is de tweede die ik probeer. De eerste Angel's Dust ruikt bij mij helemaal niet poederig/bloemen maar naar honing en een beetje te scherp. Dit daarentegen is echt ... hmmmmmmmm, zucht.... ik blijf er aan ruiken. Heerlijk poederig, leer, warm, erotisch, dierlijke aantrekking, pure verleiding en feromonen maar wel op een elegante manier zonder dirty te zijn. Ik ben benieuwd naar de andere twee en dan ga ik een keuze maken.
Positieve ervaring, snelle levering
Positieve ervaring, snelle levering leuke cadeaus- de proefjes.
Maria Shenert - 2018-11-28
Under my skin
Bij de eerste kennismakingsspray deinsde ik even terug. Gelukkig voor een kort moment. Geef het heel even voor je je neus er dichtbij brengt! Die eerste geurnoten blijven waarneembaar denk ik, maar dan als het frisse element dat eigenlijk tot het einde toe waarneembaar blijft. Dat vind ik mooi, want de meeste geuren eindigen naar mijn ervaring vaak erg vlak. Het is een wat zwaarder parfum dat lang om je heen blijft dansen, maar niet alsof je in een parfumwolk loopt waarin je zelf niet meer waarneembaar bent. Een klein beetje geeft de hele dag vleugjes van een heerlijke geurbeleving waar iemand op armslengte ook af en toe iets van mee zal krijgen. Het lijkt te versmelten met je lichaam, warm maar met een frisse prikkelende toon, leer en zeker ook animale. Ik vind het een bijzondere en toch vertrouwde geur. De naam van dit parfum is perfect gekozen, beter kan ik het niet omschrijven.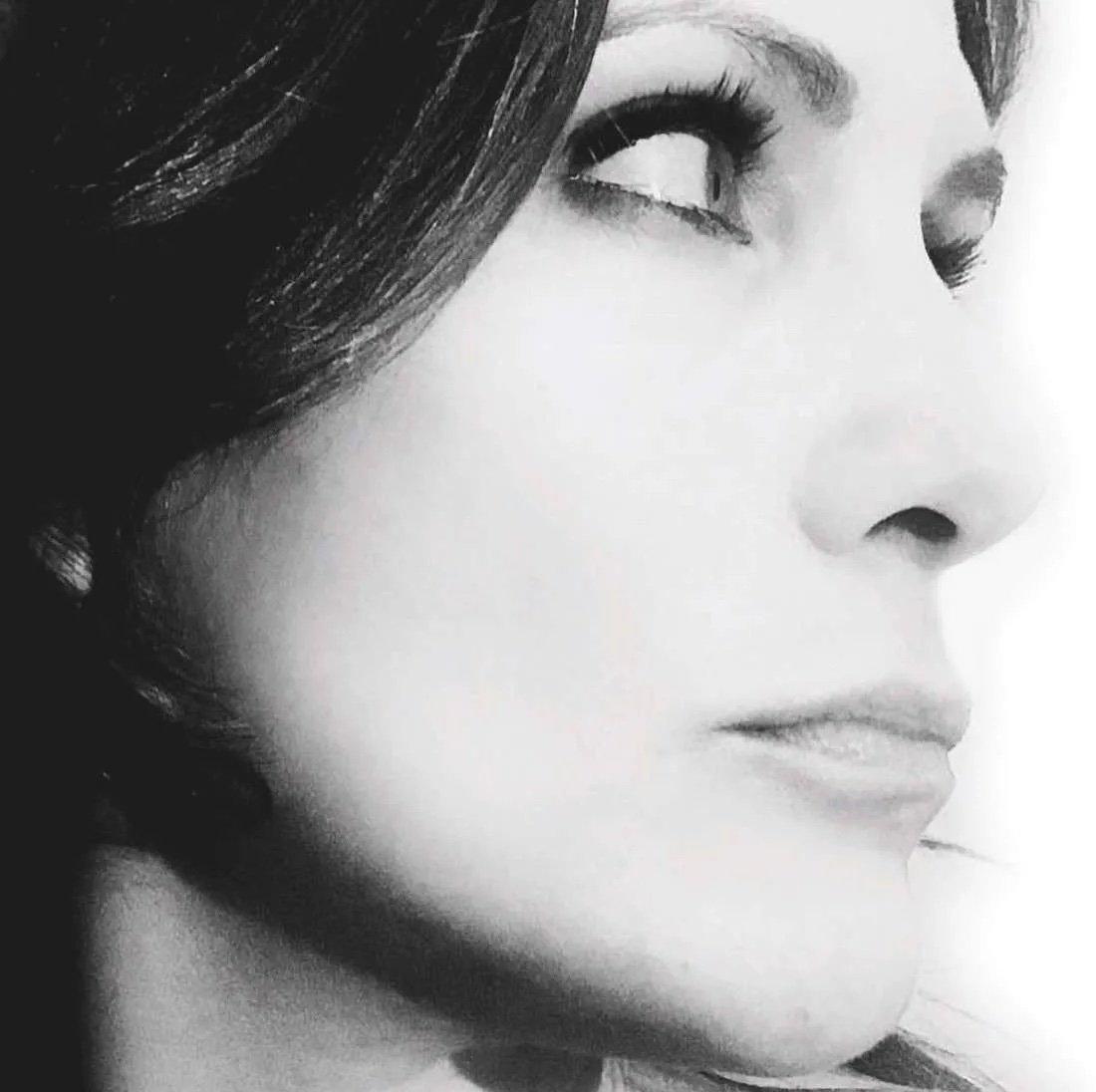 Francesca Bianchi
Francesca Bianchi's perfumes have gained a reputation for being sensual and provocative, all unusual, powerful and distinct extrait de parfums. "I am mostly inspired by the power of what it means to be human, by the wish to connect with people's inner life, the desire to spark an emotion in them and make them feel at home in their own bodies, offer solace, or just a quick fix for a bad day." Click here to read more about Francesca Bianchi.