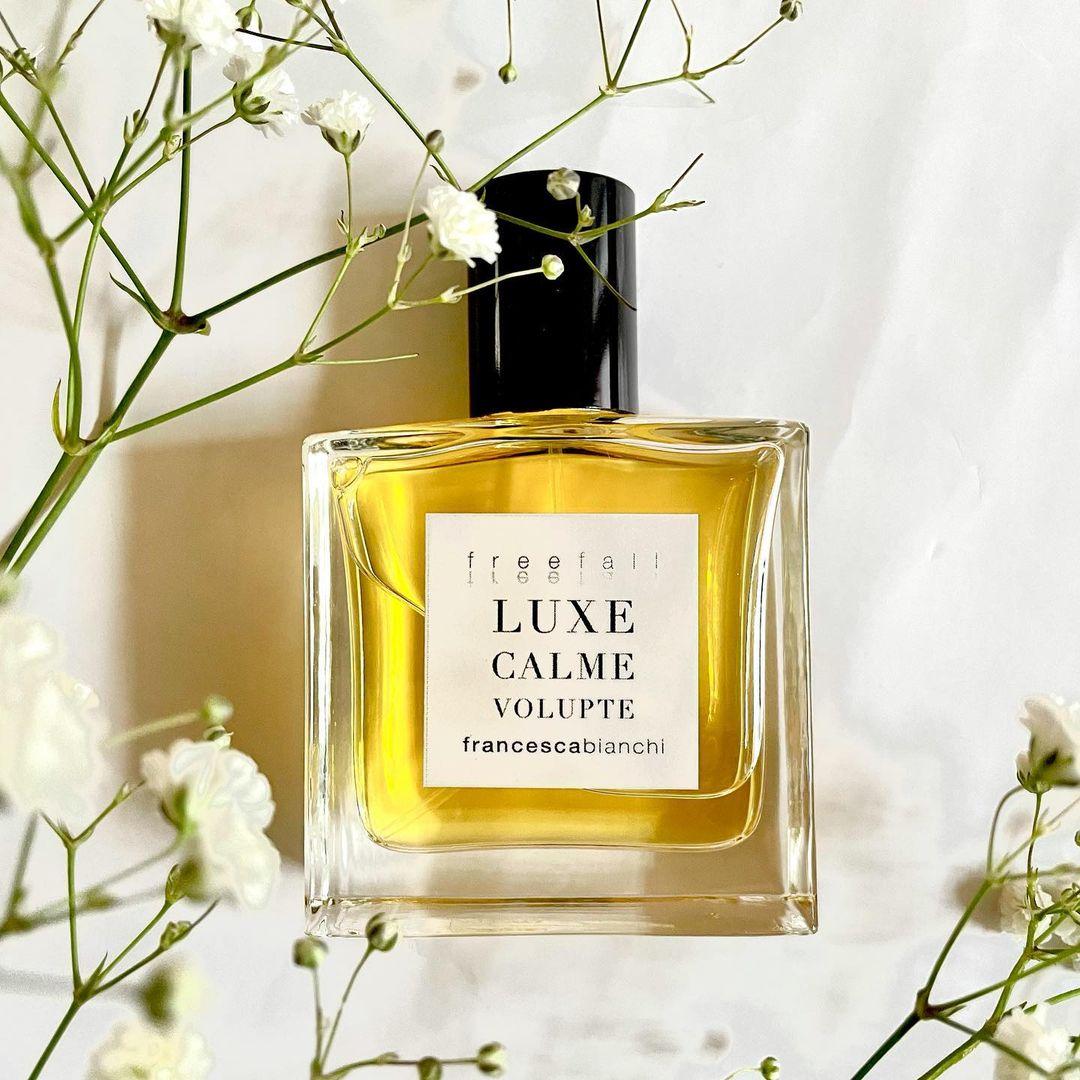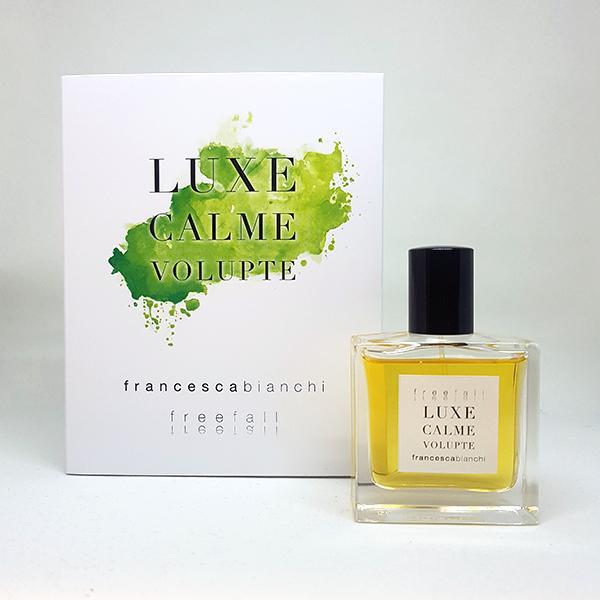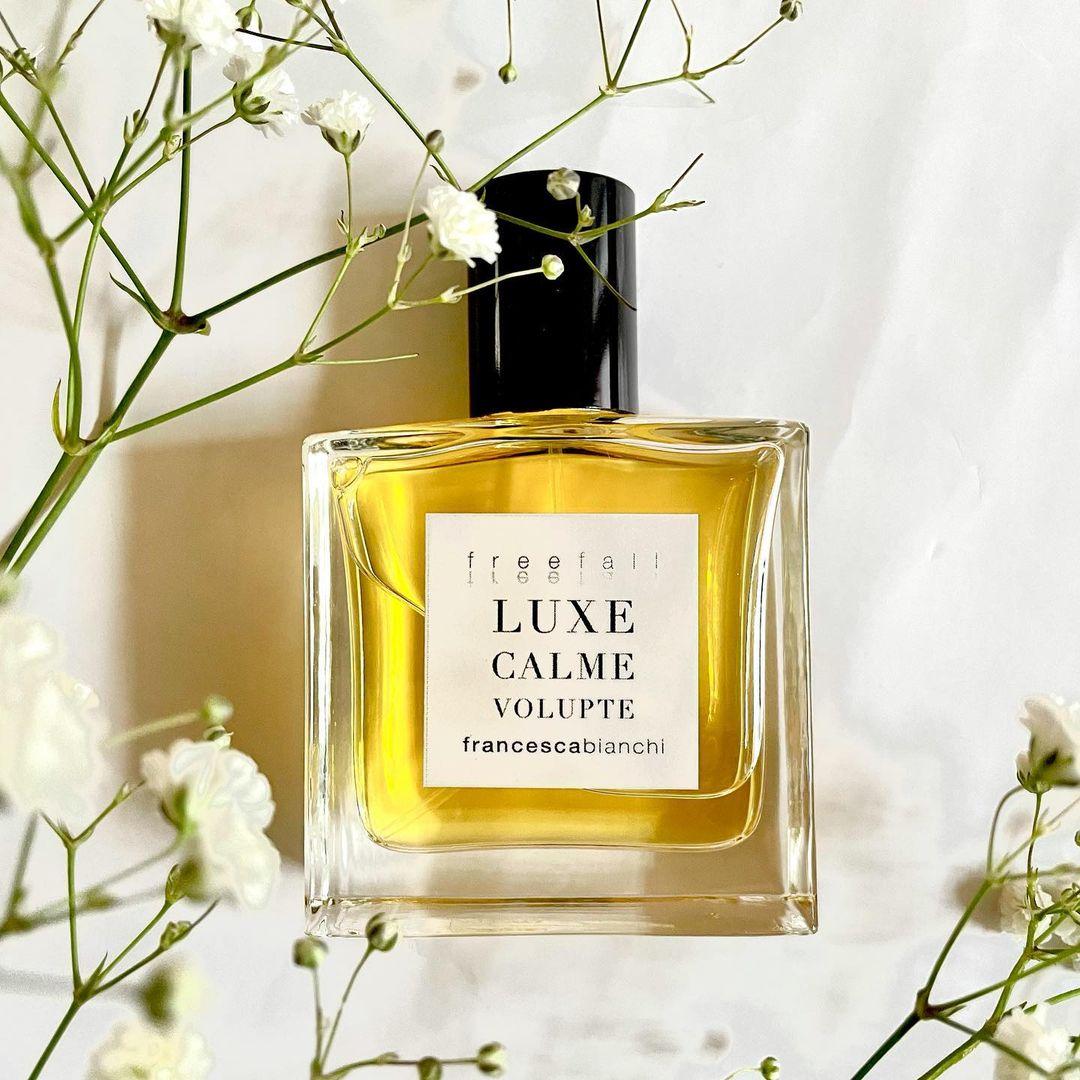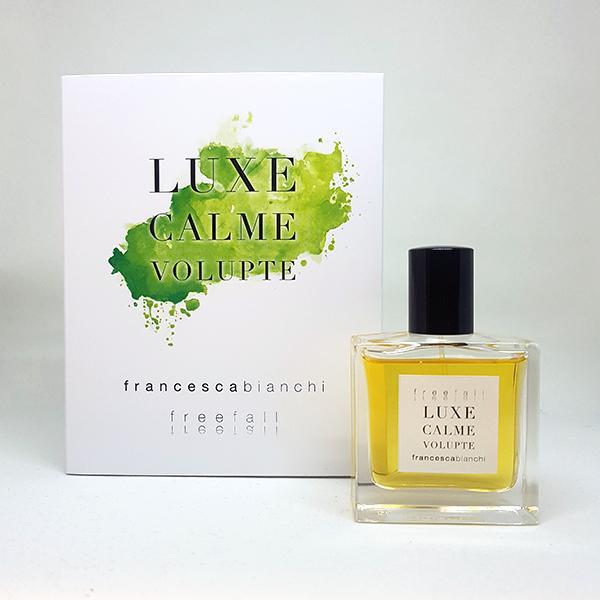 Daily worldwide shipping

Free shipping rates available

Free samples & gift wrapping
Luxe Calme Volupte is an elegant and opulent perfume by Francesca Bianchi; intense floral-fruity amber facets and fresh green nuances together form a beautiful bouquet.
In this perfume, Francesca Bianchi cleverly manages to combine the sensual with the meditative.
Francesca was inspired for this fragrance by a poem by Baudelaire, Invitation au Voyage, and the painting Luxe Calme Volupte by Matisse. Like the works mentioned above, Francesca's Luxe Calme Volupte tempts you to take a sensuous journey to a hidden place full of tranquillity and carefree passion.
With her twelfth fragrance, Francesca takes a new turn introducing the slightly green notes while maintaining her characteristic style. A nice addition to her already existing fragrances which will certainly be liked by her fans.
Orange, Galbanum, Mandarin, Opoponax, Hyacinth, Tropical fruits, Benzoin, Orris, Vetiver, Ylang ylang, Sandalwood
Francesca Bianchi's perfumes are sensual, intimate and provocative. "Made by Italian hands", a beautiful statement to describe this brand of Amsterdam-based and independent perfumer Francesca Bianchi.
The Italian perfumer Francesca Bianchi started with her first creations in 2016. Luca Turin rated her Angel's Dust with 4 stars! At the age of 28, her fascination for essential oils started. This grew out to be a true passion which she converted into creating perfumes. We enjoy working together with this extremely passionate and crafty perfumer. With great pleasure we co-created Cuir Soyeux, a limited edition creation by Francesca, to celebrate our 10 year anniversary.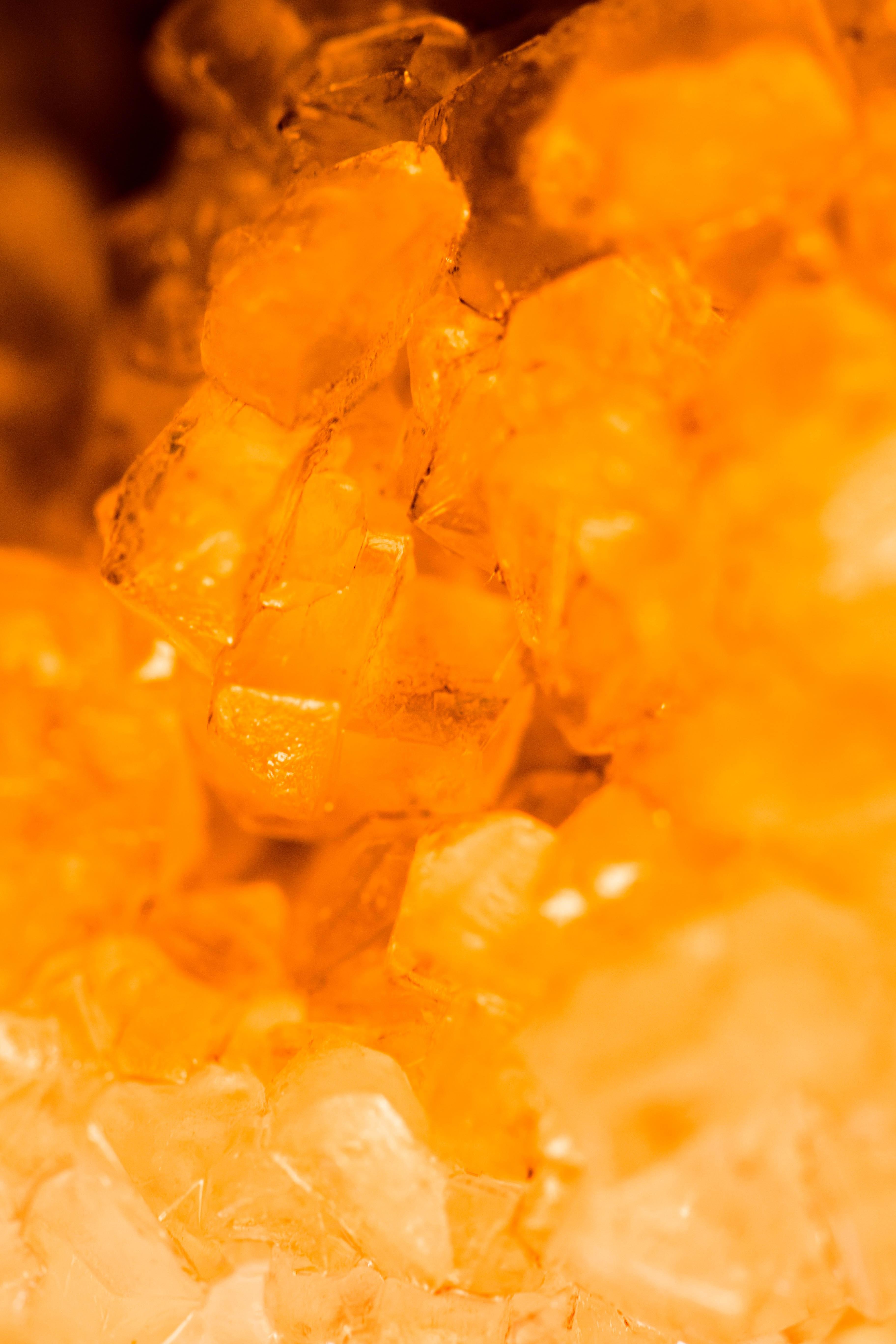 Fragrance family
Amber
The amber fragrance family contains warm, spicy and often sensual perfume notes. Classic amber fragrances are built around an amber accord, often consisting of patchouli, benzoin, labdanum, vanilla and musk. Also, amber can refer to natural ambergris or synthetic amber, such as Ambrox or Ambroxan.
Luxe Calme Volupte - extrait de parfum
Très Luxe indeed
Another wonderful Francesca Bianchi creation for me to enjoy. Like Vanheede says, very wearable and accessible compared to some of her other perfumes. Green and ambery, mysterious yet uplifting, makes me feel luxurious and chic... I am so much in (perfume)love! Thank U Petra for the lovely package and samples. Next on my wishlist is Sticky Fingers and/or Anubis. ;)
Samples kopen
Perfecte hulp bij uitzoeken van mijn samples in een vriendelijke sfeer.
Ambery - comforting - sophisticated
Wearing daily since delivered on Monday June 21st. Above all a very nice, ambery perfume. Easy to wear every day all year. Not green like 'Etruscan Water', but subdued green. I own all FB perfumes, this one is by far the most accessible.
Verfijnd,vrouwelijk,chique
Moest wennen aan de frisse toon in de geur zoals hyacinth en citrus...maar na een paar keer testen Herken ik ook Tyger Tyger en lost in heaven hierin Heerlijk!
Weer een meesterwerk !
Met deze geur heeft Francesca weer een meesterwerk afgeleverd. De geur draagt overduidelijk haar handtekening, maar is toch anders dan de andere geuren: frisser, minder houtig/leerachtig en het bekende ' vieze randje' is minder aanwezig en in plaats daarvan is er fruit en een zoetje dat de geur heel zacht en warm maakt. Gelukkig geen zoetsappig parfum, want het is, zoals alle geuren van Francesca, krachtig en kruidig. Maar wel zeer draagbaar. De mandarijn en de bittere sinaasappel in de opening is heel mooi. Maakt het fris en groen. Het bloemige van de Ylang is verrassend en de Iris maakt het heerlijk boterig. Ik ben erg blij met deze geur.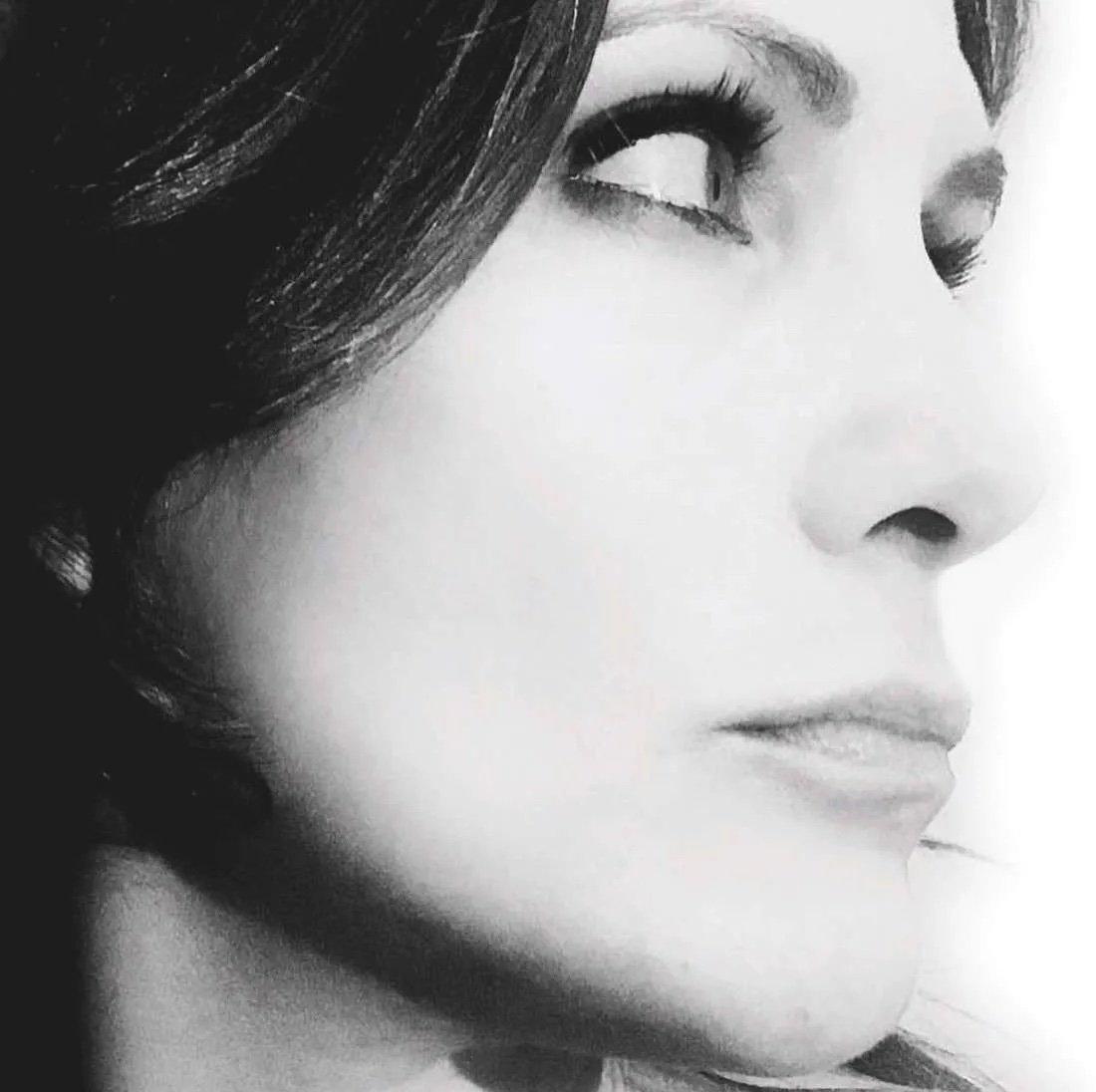 Francesca Bianchi
Francesca Bianchi's perfumes have gained a reputation for being sensual and provocative, all unusual, powerful and distinct extrait de parfums. "I am mostly inspired by the power of what it means to be human, by the wish to connect with people's inner life, the desire to spark an emotion in them and make them feel at home in their own bodies, offer solace, or just a quick fix for a bad day." Click here to read more about Francesca Bianchi.